M A I N N E W S
The Last Word

Mamata Banerjee
Rebel without a pause
Subhrangshu Gupta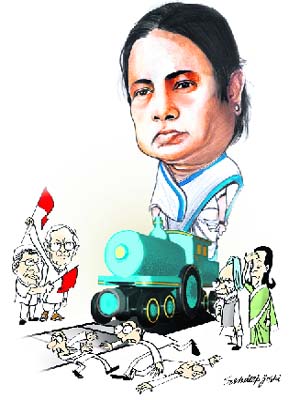 While many continue to treat her as some kind of a joke, Mamata Banerjee is having the last laugh. She has just led her party to a stunning victory in the municipal elections by sweeping Kolkata and the adjoining Bidhannagar municipal boards.
While elections were held for as many as 81 municipal bodies, the two largest municipal corporations, both held by the Left Front, were the real big prizes at stake. The result, touted as the semifinal before the next year's Assembly elections, indicate that Mamata (she has of late dropped the surname which points to her being a Brahmin) could be just one-step away from dislodging the Left Front after 33 long years of uninterrupted rule.
Mamata has always been imperious and distrustful of others, seldom delegating authority. Not surprisingly, she continues to evoke mixed feelings even among her staunch supporters. Both mercurial and impulsive, she does not take criticism kindly. Her single obsession has been to oppose the Left Front and she turned her pathological hatred for the CPM, which, she believes, harbours only the corrupt, the arrogant and the selfish, into a passionate brand of opposition politics.
The spinster who started her political career by pasting posters on the walls and distributing party pamphlets on streets is artistic, too. The TMC party symbol is said to have been created by her and she does fancy herself as a poet and painter, often seen doodling in Parliament.
While she successfully copied the Left parties' agitational strategies to beat the Left in its own game, she is yet to spell out a constructive programme or clarify what her stands are on policies related to education, health or industry. Her assertion that a Trinamool government would never acquire land without the consent of landowners is widely seen as impractical. Her record as Union Minister has been indifferent at best. Even as the Union Railway Minister, she has been criticised for giving Rail Bhavan a miss and camping mostly in Kolkata, forcing officials to keep flying with files for her to sign.
The joke going round in West Bengal's political circles is that if a SWOT analysis was to be done for the Trinamool Congress, her name would fill all the slots. She is the "strength" of her party all right, but she is also the "weakness", the "opportunity" and also the "threat" to it!
To her colleagues in the party, she is the Fuhrer - the leader. Two old Congress stalwarts, Somen Mitra and Subroto Mukherjee, were once the storm-troopers of the old, undivided Congress. Mukherjee, a former Mayor of Kolkata, in fact is said to have initiated her into politics and claims to be her political "guru" and mentor. Mitra, the former West Bengal Pradesh Congress president and strongman, had been a bitter rival and critic. But today, both have flocked to her side, purring like "pets" and swearing their loyalty to the "netri", which is the feminine term for the word "neta" in Bengali.
Even her MPs are terrified of her and dare not speak out of turn. When one of them casually announced that the party was planning to launch a channel, he got an earful from her.
A bit of an unguided missile, she has always been a rabble-rouser with the ability to use her passion and lungpower to drown other voices. Her campaigns have a touch of hysteria and she is completely unpredictable. She can be sarcastic and rude. Her looks can cut people to size. She works herself to a frenzy in no time and she often appears either angry or sulking. At times she is also crude and yet she has the kind of cult following that even Jyoti Basu would have envied. She is the "didi" or elder sister to everyone. Her slogan of "Now or never" at the last Assembly election backfired but her slogan of more recent vintage, "Maa-Maati-Manush", seems to have struck a more responsive chord.
The mass following may also have something to do with her austere lifestyle. For someone who has been elected to the Lok Sabha six times and has also been a member of the Union Council of Ministers on four different occasions, she follows a remarkably spartan routine. She declined to move into the ministerial bungalow on the Akbar Road and continues to live in her MP's flat because she feels it to be lucky for her. A frugal eater, she likes a plain dosa, but she loves to feed her guests and visitors. Her staff, however, has standing instructions to pay for whatever is ordered for the guests from the Railway canteen in Parliament House.
In Kolkata, she continues to live in an area, which was a slum once and which is not much better now. The shanty she grew up in has given way to a more spacious "house" and there is more security outside. But she continues to wear mostly khadi or cotton saris, keeps roasted gram, a bottle of water and biscuits in her jhola and refuses to use an official car in Delhi, opting to sit on the front seat of an old, grey Zen car owned by trusted aide, Ratan Mukherjee.
In her very first election for the Lok Sabha, way back in 1984, she was pitted against Somnath Chatterjee, the CPM stalwart and later Speaker of the Lok Sabha. The sympathy wave after Indira Gandhi's assassination helped her defeat the goliath and get elected as the youngest member of the then Lok Sabha at the age of 29. She lost the next election in 1989 but since 1991, she has never been beaten, winning the next five elections for the Lok Sabha in a row.
The only daughter of her parents with modest means, she wanted to become a teacher or a lawyer but her "education" has been a subject of controversy. While she has done her MA and obtained two more degrees, a BEd and another a degree in law, her detractors have had a field day insinuating that she somehow did not quite earn them. She actually played right into their hands in the late 80s by claiming to have acquired a questionable PhD degree from a dubious East Georgia University without ever visiting the US. In the face of persistent criticism and ridicule, she was forced to drop the claim and remove it from her CV.
She is known for her antics. She once tied a black shawl round her neck like a noose and threatened to commit suicide in protest alleged atrocities by the CPM government. Inducted as a junior minister in the Narasimha Rao government, she lasted barely a year, announcing her resignation at a public meeting in Kolkata after accusing the Congress of being a stooge of the CPM. Later, while she was still a part of the NDA government in 1996, she squatted in the well of the Lok Sabha in protest against hike in petroleum prices. The very next year, she hurled her shawl at Ram Bilas Paswan, who was presenting the Railway Budget, accusing him of neglecting the interests of West Bengal. Old-timers recall Mamata dragging a Samajwadi Party MP away to prevent him from speaking out against the Women's Reservation Bill.
No wonder, even her allies and lieutenants dread her tantrums and mood swings. But her admirers love the disdain with which she throws away trappings of power. Appointed Railway Minister in 1999, she resigned in a huff two years later and parted company with the NDA. She was back as Union Minister in 2004, only to hurl her resignation in the Lok Sabha after the Speaker disallowed an adjournment motion.
Her Achilles' heel is the Maoists, who have publicly stated that they would like to see her as the Chief Minister. They have also voiced their disappointment over her failure to persuade the Union Government to call off joint security operations against them. Mamata has been trying desperately to distance herself from the rebels. But in both Nandigram and Singur, where she exploited the popular sentiment against land acquisition for industry by the state government, the Maoists are known to have helped the TMC fight the police and the CPM cadres.
However, even as she rides on a strong anti-incumbency wave in the state, there is very little expectation from her. There is tacit agreement among the people that she lacks the intellectual ability and the discipline of the Communists and her administrative ability is yet to be tested. She might actually prove disastrous as the Chief Minister, apprehend even her supporters, but people anxious to see the end of the Left Front rule and usher in change have rallied round her. And in a democracy, that is what will eventually count.