PUNJAB
HARYANA
JAMMU & KASHMIR
HIMACHAL
REGIONAL BRIEFS
NATION
OPINIONS
LETTERS
BUSINESS
SPORTS
WORLD
Tuesday, June 8, 2010, Chandigarh, India
Updated at 3:00 am (IST)

Bhopal Gas Tragedy
Keshub, 7 others convicted
* Get two-year imprisonment
* All convicts get bail immediately
Bhopal, June 7
Nearly 26 years after the world's worst industrial disaster left more than 15,000 dead in the Bhopal gas tragedy, former Union Carbide India Chairman Keshub Mahindra and seven others were today convicted and sentenced to two years imprisonment in a judgement that came under attack from civil rights activists and parties.
CAST YOUR VOTE
Should the execution of Ajmal Kasab's death sentence be put on fast track?

EDUCATION
JOBS & CAREERS
HEALTH & FITNESS
SCIENCE & TECHNOLOGY
REAL ESTATE

SPORTS & WELLNESS
Bhopal Verdict
It's travesty of justice: Survivors
New Delhi, June 7
A quarter of a century after the world's worst industrial disaster that killed and maimed thousands in Bhopal, relatives of victims and survivors of the tragedy are flabbergasted, outraged, and not without a reason. Is it truly a fair verdict, they are questioning, saying the disaster has been treated as a traffic accident.
Union Carbide: Indian court has no jurisdiction
New York, June 7
US-based Union Carbide today maintained it was not subject to the jurisdiction of the Bhopal court that gave its verdict in the 1984 gas disaster case, insisting that none of its officials were involved in operation of the plant.


We made painstaking efforts: CBI
Ready for talks with all those against violence: Manmohan
Srinagar, June 7
Asserting that the government wanted to take forward the dialogue process initiated through Round Table conferences, Prime Minister Manmohan Singh has said the government was ready to hold talks with all those who were against violence in Jammu and Kashmir.
UNION BUDGET 2010-11
RAILWAY BUDGET
2010-11
NDA 60 Glorious Years
1857 The First Challenge
E - Revolution 2005:
A Two-day IT conclave
Assembly Elections - 2005
Turbans
Chandigarh is 50
125 Years of The Tribune
India: The Tasks Ahead
India at Sixty
A Tribune Supplement
EARLIER FEATURES
On Sundays
On Saturdays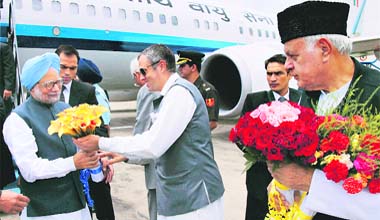 Manmohan Singh being received by J-K Chief Minister Omar Abdullah and Union New and Renewable Energy Minister Farooq Abdullah on his arrival at the airport on the outskirts of Srinagar on Monday. — PTI
The Last Word
Mamata Banerjee
Rebel without a pause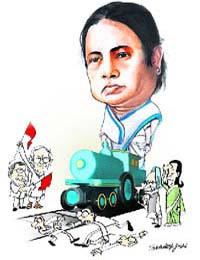 While many continue to treat her as some kind of a joke, Mamata Banerjee is having the last laugh. She has just led her party to a stunning victory in the municipal elections by sweeping Kolkata and the adjoining Bidhannagar municipal boards. While elections were held for as many as 81 municipal bodies, the two largest municipal corporations, both held by the Left Front, were the real big prizes at stake.


Yuvraj, Yusuf axed, Tendulkar rested
New Delhi, June 7
Sachin Tendulkar was today rested while a struggling Yuvraj Singh was dropped from India's 15-member squad for this month's Asia Cup in Sri Lanka. Tendulkar had sought a break to spend time with his children, while Yuvraj's ouster was on the cards after a series of disappointing performances in recent times.
Army suspends Major in fake encounter case
June 7, 2010

Post-regret, Canada has little new to say
June 6, 2010

Obama to keep his November date
June 5, 2010

Krishna pitches for access to Headley
June 4, 2010

Sukhna is dying, save it!
June 3, 2010

Optimistic PM pegs growth at 8.5 pc
June 2, 2010

Rail mishap takes political hues
June 1, 2010

US rehearses strikes on Pak
May 31, 2010
New education draft has states smiling
May 30, 2010
Maoists target train, 76 dead
May 29, 2010