PUNJAB
HARYANA
JAMMU & KASHMIR
HIMACHAL
REGIONAL BRIEFS
NATION
OPINIONS
LETTERS
BUSINESS
SPORTS
WORLD
D E H R A D U N P L U S
Now, feel cosy in shawls made of 'bichhu ghas'
Around 300 women work at the Panchachuli factory in Almora district to produce yarn out of stinging nettle while another 1,000 are under its umbrella.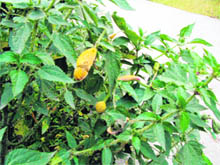 Almora, June 7
Hills of the Himalayan range are known for the wild growth of a plant popularly known as stinging nettle or "bichhu ghas". It will be very difficult to believe that someone will even hold the plant in his hands with comfort.
WII experts count pure breed of red jungle fowls
Dehradun, June 7
The Wildlife Institute of India (WII) has embarked upon studies in genetic diversity of red jungle fowl in the country. The study that comes as the second phase of the WII project entitled "Conservation of red jungle fowl in India" is being done with the aspects of domestication, purity and also the level of impurity vis-à-vis the red jungle fowl.
Hunger drives leopards to human habitations
June 7, 2010
31 graduate from Army Cadet College
June 5, 2010
Bigger grain varieties can turn around Doon Basmati
June 4, 2010
India's biggest telescope reaches Nainital
June 3, 2010
Solar energy units should be must for new houses: Farooq
June 2, 2010
All set for Kailash Mansarovar Yatra
June 1, 2010
State water policy on the cards
May 31, 2010
Girls shine again in state board examinations
May 30, 2010
Grading system respite for average students
May 29, 2010
Camera traps to capture Nandadevi snow leopard
May 28, 2010