They care for cancer patients
Dehradun, May 30
Notwithstanding the increasing number of cancer cases, palliative care for the terminally ill continues to be non-existent in the state. Easing the pain of cancer patients almost on the last leg of their life is the mission of Rishikesh-based Ganga Prem Hospice, a dedicated band of volunteers. They not only nurse the patients, but also prepare them to face the inevitable with stoicism.
At last, sufficient water for Malsi Deer Park
40-foot bore well sunk inside park
Dehradun, May 30
The Malsi Deer Park finally has ample water. Facing a water shortage for long, the park on the outskirts of Dehradun has finally dug a bore well to make up for its watery needs.


| | |
| --- | --- |
| | The entrance of the Malsi Deer Park in Dehradun and (right) a water point for animals at the park. Tribune photographs |
Dehradun Diary
BJP likely to see change in leadership
Rumour mills are working overtime in the ruling BJP circles in the state on the new political alignments taking place. The state politics of the ruling party divided between the Garhwal and Kumaon regions and Thakur-Brahmin equations was in a turmoil following a few meetings between arch political rivals and two former Chief Ministers, Major-Gen BC Khanduri (retd) and Bhagat Singh Koshiyari.
Down, but in high spirits
A recuperating Girda holds marathon session of poetry recitation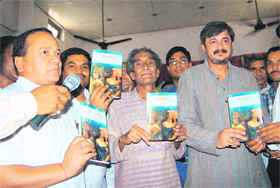 Dehradun, May 30
Frail in body, but not in spirit, people's poet Girda, though still recuperating from a long spell of illness, held a marathon session of poetry recitation, sometimes singing his own poems and at times evoking the likes of Sahir Ludhianvi, Gulzar and others before him, provoking the consciousness of the audience on issues that have been intrinsically linked to the survival of mankind and nature.
Famous Uttarakhand poet Girda releases a book "Antarman" written by Anand Gangola in Dehradun on Sunday. A Tribune photograph

DSL Aloevera Cricket
Brave Academy, NCC in final
Dehradun, May 30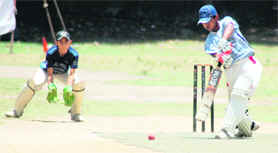 The Brave Cricket Academy, Delhi, will meet the NCC, Sonipat, in the finals of the All-India DSL Aloevera Under-16 Cricket Tournament being played here. In the semi-finals, both teams trounced the Gujaral Cricket Academy, Haldwani. and the Haldwani Colts Academy, respectively.
A batsman plays a shot in the All-India DSL Aloevera Under-16 Cricket tournament in Dehradun on Sunday. A Tribune photograph

Climbing gaining popularity in India
Dehradun, May 30
Though relatively new in India, climbing sport is expected to gain popularity in the coming days with an eye on the future, Uttarakhand today hosted the National Men's Open Climbing Championship organised at the ITBP, Mussoorie, in which more than 50 participants representing four zones competed with each other.
Kharak wins national climbing c'ship
Dehradun, May 30
Kharak Singh of the Indo-Tibetan Border Police (ITBP) and representing the North zone, stood first in the first National Men's Climbing Open Championship held at Mussoorie today.
Adhere to journalistic ideals: CM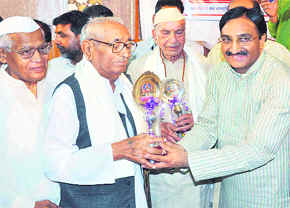 Haridwar, May 30
Terming Hindi journalism as the voice of the masses and catering to a majority section of the people in India, Chief Minister of Uttarakhand Ramesh Pokhriyal Nishank stressed on the need to adhere to the ideals of journalism as was envisioned during the independence movement.
Veteran journalists from the Haridwar region being felicitated by Chief Minister Ramesh Pokhriyal Nishank on the occasion of Hindi Patrakarita Diwas in Haridwar on Sunday. Tribune photo: Rameshwar Gaur


Arnav bags gold medal in swimming
Haridwar, May 30
It seems the young generation of Haridwar has decided to make a name for themselves. So talented youth in a large number is emerging and shining in various disciplines be it squash, kabaddi, badminton, basketball, tennis or swimming. Arnav Vats, 15, has made the district proud by winning the first position in the Uttarakhand Swimming Championship which is being held at Haldwani in Kumaon division.
Governor's Cup Golf Tourney
Harish best gross winner, Rekha lady golfer
Nainital, May 30
Harish Shankar was declared the gents best gross winner "champion" while Rekha Chauhan was declared the lady golfer at the Governor's Cup Golf Tournament that came to an end here this evening. The runners up in these two categories were Prakash Tamta, who has been a caddie, and Shalini a lathe.
Golf tourney for caddies in October
Nainital, May 30
Governor Margaret Alva has announced that a golf tournament for caddies will be organised in October. This is being done to promote tourism and encourage sports among all sections of the society.
Camp on legal awareness held
Dehradun, May 30
Under the aegis of Law College, Dehradun, a legal awareness camp was conducted at Vikas Nagar block here today. A large number of pradhans, regional and district level of panchayat members and other former representatives of the panchayats as well as social activists have attended the camp.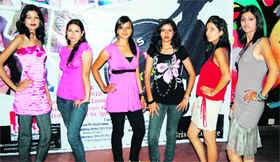 32 take part in Miss Super Model audition
Dehradun, May 30
Thirtytwo girls participated in the first round of the audition for the Miss Super Model Uttarakhand Contest 2010 here today. The show was organised by New Looks, model maker event management company.
Local girls at an audition for the Miss Uttarakhand Super Model contest in Dehradun on Sunday. A Tribune photograph