M A I N N E W S
US rules out fresh probe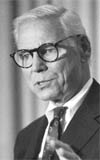 Warren Anderson
Washington, June 8
The US today ruled out reopening any 'new inquiries' against Union Carbide following the Indian court verdict on Bhopal gas disaster and hoped this case would not affect the passage of the civil nuclear liability bill in India.
The Obama Administration also hoped that yesterday's verdict by a Bhopal court will bring "closure" to the families of the gas leak victims and that this case will not "inhibit" US' expanding ties with India.
The Administration refused to discuss the issue of extradition of Warren Anderson, a former chairman of Carbide's parent company to India. Carbide is a US multinational firm.
The nuclear bill, which is facing opposition in India, is currently before Parliament. The controversial Bill has been referred to a Standing Committee of Parliament.
The American reactions by two senior officials came amid outrage by civil rights activists over the US parent company escaping criminal liability and Anderson being allowed to go scot free in connection with the 1984 gas disaster in which over 15,000 people died.
The officials were reacting to the court convicting seven Indian employees, including ex-Union Carbide India Chairman Keshub Mahindra and sentencing them to two years in prison each, nearly 26 years after the tragedy.
"With respect to Bhopal, obviously that was one of the greatest industrial tragedies and industrial accidents in human history. And let me just say that we hope that this verdict today helps to bring some closure to the victims and their families," Assistant Secretary of State for South and Central Asia, Robert Blake told a news conference here.
Blake hoped the verdict would not lead to opening of new inquiries into the role of Union Carbide in the disaster.
"But I don't expect this verdict to reopen any new, you know, inquiries or anything like that. On the contrary, we hope that this is going to help to bring closure," Blake told foreign reporters in response to a question. — PTI