PUNJAB
HARYANA
JAMMU & KASHMIR
HIMACHAL
REGIONAL BRIEFS
NATION
OPINIONS
LETTERS
BUSINESS
SPORTS
WORLD
Wednesday, June 9, 2010, Chandigarh, India
Updated at 3:00 am (IST)

Bhopal Verdict

The blame game is on
Case against Anderson not closed, says Moily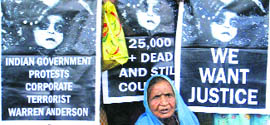 New Delhi, June 8
An intense blame game was on today even as the nation struggled to overcome the shock of the trial court verdict virtually letting off seven accused in the 1984 Bhopal gas tragedy case with just two-year sentence.


NGO to challenge verdict in HC

Editorial: Deterring Bhopal-like disasters

Bhopal verdict: Worst legal disaster of recent history
Donít listen to anyone else on Bhopal gas verdict but Law Minister of India M.Veerappa Moily. ďJUSTICE BURIEDí he says. Indeed, first were buried the victims and than was the justice. The graves of those who fell victims to the criminal methyl isocyanate gas leak in Bhopal on December 2/3, 1984 would always bear the witness to this worst legal disaster of the recent history.


Former CJI defends judgment
CAST YOUR VOTE
Should the execution of Ajmal Kasab's death sentence be put on fast track?

EDUCATION
JOBS & CAREERS
HEALTH & FITNESS
SCIENCE & TECHNOLOGY
REAL ESTATE

SPORTS & WELLNESS
US rules out fresh probe
Washington, June 8
The US today ruled out reopening any Ďnew inquiriesí against Union Carbide following the Indian court verdict on Bhopal gas disaster and hoped this case would not affect the passage of the civil nuclear liability bill in India.
PM announces sops worth over Rs 1,000 cr for J&K
Srinagar, June 8
Prime Minister Manmohan Singh today assured the state government of full support to carry the developmental process forward and complimented Chief Minister Omar Abdullah on providing effective leadership.
Chandigarh, June 8
Responding to the distress call on Sukhna Lake of City Beautiful, Haryana Forest and Environment Minister Ajay Singh Yadav has got going. He has directed his department to immediately prepare an action plan for afforestation of the catchment area of the Sukhna falling in Haryana.

Haryana Environment Minister Ajay Singh Yadav talks of his concern over the dying Sukhna Lake in Chandigarh on Tuesday. Tribune photo: Manoj Mahajan
UNION BUDGET 2010-11
RAILWAY BUDGET
2010-11
NDA 60 Glorious Years
1857 The First Challenge
E - Revolution 2005:
A Two-day IT conclave
Assembly Elections - 2005
Turbans
Chandigarh is 50
125 Years of The Tribune
India: The Tasks Ahead
India at Sixty
A Tribune Supplement
EARLIER FEATURES
On Sundays
On Saturdays
Minority Status
St Johnís cries foul, seeks Patilís help
Chandigarh, June 8
The dispute between city-based St Johnís High School and the UT administration is getting murkier by the day, with the former approaching the UT administrator against Home Secretary Ram Niwas and District Education Officer Chanchal Singh for allegedly interfering in the institutionís functioning.


Allegations levelled BY THE SCHOOL
| | |
| --- | --- |
| | Students of St Johnís High School take out a candlelight march in Chandigarh on Tuesday. Tribune photo: S Chandan |
Leopard terror lurks in Kasauli hills
Inadequate steps by Forest Deptt
Kasauli, June 8
Tranquility in the serene hill town has been shattered by leopard attacks during the past fortnight. Residents and visitors alike seeking to spend precious moments, far from the maddening crowd, particularly during evenings, are being forced to shut themselves in their houses after sunset, as they do not dare to venture on the city roads.
TODDAY'S SPECIALS
JOBS & CAREERS

AMRITSAR PLUS

HIMACHAL PLUS

J&K PLUS

JALANDHAR PLUS

HEALTH & FITNESS

Keshub, 7 others convicted
June 8, 2010

Army suspends Major in fake encounter case
June 7, 2010

Post-regret, Canada has little new to say
June 6, 2010

Obama to keep his November date
June 5, 2010

Krishna pitches for access to Headley
June 4, 2010

Sukhna is dying, save it!
June 3, 2010

Optimistic PM pegs growth at 8.5 pc
June 2, 2010

Rail mishap takes political hues
June 1, 2010

US rehearses strikes on Pak
May 31, 2010
New education draft has states smiling
May 30, 2010