Aspiring actors need patience, says acting guru Taneja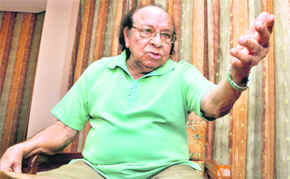 Dehradun, June 8
Indian guru of acting Roshan Taneja says acting is a tough profession and one should think hundred times before embarking on it. It requires hard work, dedication and patience. "People nowadays don't have patience. They just want to become a star in a moment, which is not possible at all. Everyone needs to struggle before getting a good chance," he says.
People used to say that an actor can't be trained, but we did it. No doubt acting is inborn talent, but it has to be polished. Just like a singer or dancer needs to practise regularly, an actor requires to rehearse to improve his skills. — Roshan Taneja
28 graduate in security course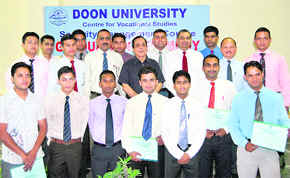 Dehradun, June 8
Doon University had foreseen the increasing requirement of security services by different stakeholders and launched a six-month certificate course last year. The first graduation ceremony of the 28 pass-out students of the security management course was held here today.
Graduates of the security management course at Doon University in on Tuesday. A Tribune photograph

China gaining strength in mid-Himalayas: Expert
Pitthoragarh, June 8
Chinese threat in the mid-Himalayas has increased compared to 1962 when China was not capable to reach this portion of the mountain range on the India-China borders due to lack of infrastructure. "But since then, China has built its infrastructure in the mid-sector posing a threat to Indian security," said Prof Harvir Sharma, Professor emeritus on defence studies of the University Grants Commission (UGC), New Delhi.
Only professional courses at Institute of Professional Studies
Nainital, June 8
The Institute of Professional Studies and Development Research (IPSDR), a prestigious institution of Kumaon University is all set for a makeover. The university authorities have decided that from now onwards, only professional courses will be run from the institute to serve the purpose for which it was established and housed in a heritage property known as Hermitage.
Bharatnatyam, kathak contest-cum-exam held
Haridwar, June 8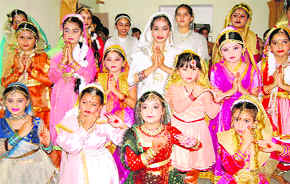 Apart from school education and other chores, young girls from different schools of the city gave a marvellous performance while participating in Bharatnatyam and kathak dance forms in a competition-cum-exam held in Kankhal. The classical dance competition was organised by the Uttarayan Art Centre and was a part of the yearly examination for the disciples of the centre.
Schoolchildren at a function at Kankhal in Haridwar on Tuesday. A Tribune photograph

Gold Cup tourney lucky for Saurabh
Dehradun, June 8
The All-India Uttaranchal Gold Cup Cricket Tournament has kept its tradition alive of being lucky for the players participating in the championship right before earning the national cap with the yesterday's selection of Saurabh Tiwary into the Indian team. Tiwary has been selected in the 15-member squad for the Asian Cup Cricket tournament to be held in Sri Lanka this month.
Kailash Mansarovar Yatra
49 to cross Lipulekh Pass today
Pitthoragarh, June 8
The 49-member first batch of Kailash Mansarovar pilgrims will cross 17,500-foot-high Lipulekh Pass tomorrow and enter Tibet for its 12-day-long sojourn to have a glimpse of Mount Kailash, according to officials of the Kumaon Mandal Vikas Nigam (KMVN), which is conducting the yatra.
WII places traps in wake of leopard attack at campus
Dehradun, June 8
After little less than a fortnight after a leopard attack in its campus, three leopard cages have been put up inside Chandrabadni-situated Wildlife Institute of India (WII) campus while two have been placed at Kailashpur village that shares its boundary with the institute.
Soccer camp concludes
Dehradun, June 8
The three-week football practice camp on the Carman School ground in Shyampur-Thakurpur being organised by the Grassroots Sport Foundation concluded here yesterday. A good number of budding footballers participated at the camp and took basic tips of the sport under the watchful eyes of known football players of Uttarakhand.


A football camp organised by the Grassroots Sports Foundation ended in Dehradun on Tuesday.

Students union backs statehood protesters
Dehradun, June 8
Students Unions of two major colleges of Dehradun have pledged to support the ongoing agitation on the part of statehood protestors for seeking exclusion of Class III and IV posts from the purview of the State Public Service Commission examinations.
HCC thump Diamond Cricket Club by 88 runs
Dehradun, June 8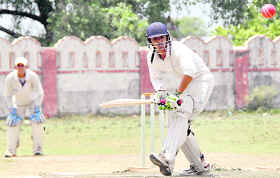 The Himalayan Cricket Club (HCC) defeated the Diamond Cricket Club (DCC) by 88 runs in the second Basudev Raghav Memorial Cricket Tournament here on the Survey of India cricket ground. The winning team batted first after winning the toss in the T20 match. Opening batsman Vijay (48) was the mainstay of the team's innings.
A batsman faces a delivery at the second Basudev Raghav Memorial Cricket Tournament in Dehradun on Tuesday. A Tribune photograph

Khukhri Club beat Indra Club 2-1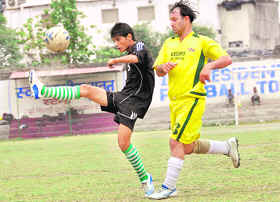 Dehradun, June 8
In a keenly contested encounter today, the Khukhri Club beat the Indra Club 2-1 during the district football league here in the Police Lines. Putting a good show the teams gave a neck-and-neck competition to each other and the first half went barren despite good efforts. With the first half ending goalless, the players gave their utmost in the next to score goals.
Players in action at a match at the District Football League in Dehradun on Tuesday. A Tribune photograph
Naren Thapa fashions Uttarakhand Club's victory 4-1
Dehradun, June 8
It was a day of Naren Thapa who struck three goals in the 4-1 win of Western Boys over the Uttarakhand Club in the ongoing Lala Nemi Das District Football League being held on the Pavilion Ground here.