D E H R A D U N P L U S
Army team conquers Trishul-I peak but defeated by nature
3 Army mountaineers killed in avalanche; Kolkata trekkers stranded at Mayali top
Dehradun, June 10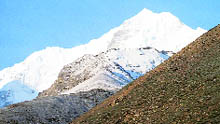 Three Army mountaineers were killed after being hit by an avalanche while descending after successfully conquering the Trishul-I peak in the Garhwal Himalayas.

A view of the Chhanguch peak in Pitthoragarh district of the Kumaon region. A Tribune photograph

Doon students in first 34 ranks of UPMT
Dehradun, June 10
In the results of Uttarakhand Pre-Medical Test (UPMT), which was conducted by Uttarakhand Technical University (UTU), students of Dehradun have proved their mental ability to pursue medical as their career.
Project to make mean sea level more accurate
Dehradun, June 10
The standard unit for measuring elevation of ground, i.e. mean sea level, is all set to be redefined.