PUNJAB
HARYANA
JAMMU & KASHMIR
HIMACHAL
REGIONAL BRIEFS
NATION
OPINIONS
LETTERS
BUSINESS
SPORTS
WORLD
Every Wednesday & Saturday
Anti-encroachment drive only for poor?
High and mighty go scot-free
Jammu, June 11
What is a city but the people? The saying by Shakespeare is true in Jammu but it's a city where one set of people is discriminated against the other.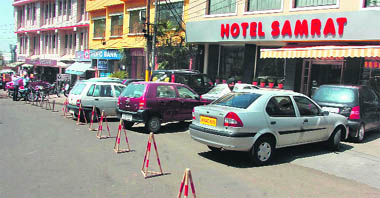 Employees of the JMC remove encroachments from the busy Bakshi Nagar market in Jammu; a slum area cleaned up by the JMC (both file photos); and encroachments on a road by hotels and commercial houses near the JMC office in the Gumat area in Jammu.
Make AFSPA more transparent: CM
June 9, 2010
Tender shoulders carry Jammu's burden
June 5, 2010
These children remain deprived of opportunities
June 2, 2010
Women worst sufferers
May 29, 2010
Killer roads continue to claim lives
May 26, 2010
Public parks or parched land
May 22, 2010
Unclaimed vehicles turn into scrap
May 19, 2010
No relief, hope for migrants
May 15, 2010
Highway four-laning devours trees
May 12, 2010
De-silting claims fall flat
May 8, 2010
State doesn't have much for HIV patients
May 5, 2010