Curfew continues in valley; protesters teargassed
Srinagar, June 30
The police here lobbed tear-gas shells at several places to quell protests while curfew restrictions continued in areas under seven police stations of Srinagar city for the second consecutive day today.
Soldier injured in mine blast
Jammu, June 30
An Army soldier sustained splinter injuries in a mine blast on a forward area close to the Line of Control in Poonch district today. Official reports said Havildar Krishen Lal of 11 Kumaon mistakenly stepped on an anti-personnel mine, which went off causing the soldier splinter injuries in his right hand.
First Merit List Out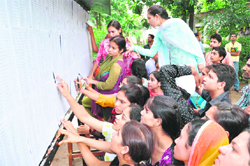 Colleges witness huge rush
Jammu, June 30
With the declaration of the first merit list of BA/BSc/BCom (first year), the admission process began from today. The second merit list would be declared on July 4.City colleges witnessed a huge inflow of the students and parents since morning, who were searching names in the merit list.

Students search for their names in the first merit list at Government College for Women, Gandhi Nagar, in Jammu on Wednesday. Photo: Inderjeet Singh

Amarnath Yatra
Bajrang Dal protests against attack on buses carrying pilgrims
Jammu, June 30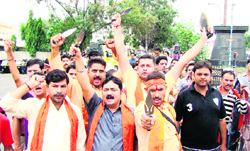 Even as the authorities have announced to provide "foolproof" security to pilgrims during the Amarnath yatra, various organisations of the Sangh Parivar have threatened to resort to agitation if the state government failed to protect the devotees and the religious places of the minorities in the Kashmir valley.

Activists of the Bajrang Dal protest against attacks at Anantanag on buses ferrying Amarnath pilgrims in Jammu on Wednesday. Photo: Inderjeet Singh

Girl sexually abused on promise of marriage
Police asks her to marry accused
Jammu, June 30
Instead of acting on her complaint, the police has allegedly been trying to brainwash a sexually victimised girl into marrying the accused.Twenty-two-year old Shakshi (name changed), a student of BA II, today alleged that the police was acting like a "family court" and trying to convince her to withdraw charges against the accused and get married with the person who allegedly had been raping her for four years.
Chopper services for Machhail yatra likely
Udhampur, June 30
Pilgrims undertaking the Machhail yatra in the far-flung Paddar valley in August may look forward to helicopter services as the Kishtwar district authorities have written to the Jammu Divisional Commissioner regarding it.
VC's Appointment
Students' body threatens agitation
Jammu, June 30
The Jammu Joint Students' Federation (JJSF) has threatened to launch an agitation if government delays appointment of a Vice-Chancellor for the Central University.
Oil tanker owners call off strike
Jammu, June 30
Following parleys with the state government this evening the Jammu and Kashmir Oil Tankers Owners' Association called off its strike promising to resume normal fuel supplies to the Kashmir valley from tomorrow morning.
Villagers demand bus service
Udhampur, June 30
Residents of panchayats Kundra, Bhabber, Tanda, Upper Pai, Lower Pai, Sirla, Panada, Damaldi and Najadi have demanded a public transport service in the area so that commuters do not face hardships and travel in private modes of transportation.
NSF guides admission seekers at varsity
Jammu, June 30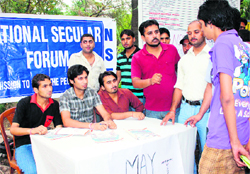 The National Secular Forum (NSF) today opened a Guidance Bureau-cum-Information Centre for admission seekers of various postgraduate courses at the University of Jammu.The bureau was inaugurated by MLC TS Wazir, who was the chief guest, while Prof Shohab Malik, HoD, Urdu, was the guest of honour.

Members of the NSF guide students seeking admission to various postgraduate courses at Jammu University on Wednesday. A Tribune photograph


Meet of Chief Electoral Officers concludes
Srinagar, June 30
Electoral rolls are being updated regularly to ensure entries of new voters and deletion of dead and non-eligible ones as foolproof mechanism is being put in place across the country to ensure maximum public participation in the electoral process.

Navin Chawla

Drive against milk adulteration
Jammu, June 30
The Municipal Veterinary Officer along with the field staff conducted a drive against adulteration of milk in the areas of Asia Hotel Chowk, Satwari, Gangyal, Digiana, Shastri Nagar and Gandhi Nagar yesterday.
Pilgrim rues lack of info by Amarnath shrine board
Srinagar, June 30
As the Amarnath yatra is all set to commence from July 1 from the valley, pilgrims reaching here allege lack of communication by Shri Amarnathji Shrine Board.
Theft case worked out
Jammu, June 30
Five days after a theft in a house in Shant Nagar here, the police on Monday claimed to have solved the case with the recovery of four tolas of gold from the possession of a thief who was arrested on June 25.