UPA not fair to BJP-ruled states: Chufal
Dehradun, July 7
Uttarakhand BJP President Bishan Singh Chufal assumed charge in April. His appointment comes at a time when Uttarakhand faces the crucial Assembly polls two years from now and particularly when there has been a change of guard in the state almost a year back.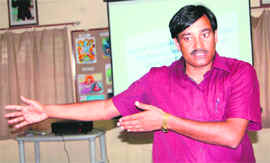 Cooperatives can help boost organic farming: Expert
Dehradun, July 7
Organic farming is a specialised stream with certain principles or system while traditional farming, in which the use of chemicals is negligible, cannot be termed as organic farming.
Dr DK Singh, Associate Professor, Agronomy College of Agriculture, GB Pant University of Agriculture, Pantnagar, makes a point.

Pitthoragarh mourns Pandey's death
Cremation takes place in Delhi
Pitthoragarh, July 7
Hem Chandra Pandey, "freelance journalist", who was gunned down by the Andhra police on July 2, along with a top Naxal leader, in the Adilabad forest of Andhra Pradesh, was cremated in New Delhi today.
Cong puts 7 questions to CM
Dehradun, July 7
Ahead of the Janakrosh rally of the BJP, the state unit of the Congress has put forth seven questions to the Chief Minister and the BJP leadership. Addressing a press conference, Uttarakhand Pradesh Congress Committee vice-president and former MLA Subodh Uniyal asked the Chief Minister as to how many industries had come up between 2007 and 2010 when the industrial package was there and how many were left to be completed for which he wanted an industrial package be extended after March 31, 2010?
Nigam staff threaten to launch stir
Nainital, July 7
Employees of the Kumaon Mandal Vikas Nigam (KMVN) are up in arms against the move to run loss-making tourist rest centres (TRCs) in a public private partnership (PPP) mode. They have threatened to launch an agitation if no action will be taken in this direction.
Farm officials get training on organic farming
Dehradun, July 7
Sanjay Agarwal, Chief Executive Officer (CEO), Clover Organic Pvt Ltd, today said small and fragmented land holding did not have choice, but to go organic.
Meena Murder Case
Two sangathan members start indefinite fast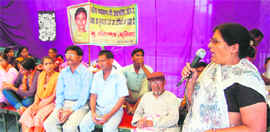 Dehradun, July 7
Two members of the Parivartankami Chhatra Sangathan, Rajni Joshi and Jyoti Gupta, today started their indefinite fast demanding justice for Meena Gola, victim of an alleged honour killing, at the Gandhi Park here today.
Members of Parivartankami Chhatra Sangathan sit on hunger strike in Dehradun on Wednesday. A Tribune photograph

Senior citizen falls into open manhole, suffers injuries
Mussoorie, July 7
The morning cost dear to Senior Citizen Forum president RS Mishra as he was injured by falling into a manhole without a lid on the Camel's Back Road recently.
DMC initiates campaign against polythene, garbage
Dehradun, July 7
The Dehradun Municipal Corporation (DMC) challaned 27 persons and collected an aggregate of Rs 5,000 from defaulters in the stretch from Tehsil Chowk to Adat Bazar for using polythene of less than 20 microns. It its drive which it launched today to ban the usage of polythene of less than 20 microns.
150 units of blood collected
Dehradun, July 7
To inculcate the spirit of blood donation among residents of Doon, a blood donation camp was organised by the Bar Association in association with the IMA Blood Bank here today.
Mall Road portion caves in
Mussoorie, July 7
The Mall Road suffered a huge damage due to overnight rains leading to big cracks near the newly constructed shopping mall near Rialto Cinema. The side walls could not bear the burden of torrential rains and slid down breaking the old side wall today.
3 leopard skins seized, three arrested
Dehradun, July 7
Uttarakhand Forest Department's Anti-poaching Cell, in collaboration with the Wildlife Protection Society of India (WPSI), today seized three leopard skins from the Dakhpattar region of Uttarakhand. Three miscreants were also arrested in the process.