PUNJAB
HARYANA
JAMMU & KASHMIR
HIMACHAL
REGIONAL BRIEFS
NATION
OPINIONS
LETTERS
BUSINESS
SPORTS
WORLD
Every Wednesday & Saturday
Father's sad tale: Badal proposes, MC disposes
Amritsar, July 12
A veteran photographer Nirmal Singh, 79, is forced to run from pillar to post as the Municipal Corporation backed off from its two earlier resolutions announcing compensation to him in lieu of the death of his son Paramjit Singh while covering an assignment of the MC.
Price Watch
Veggie prices go sky high
Amritsar, July 13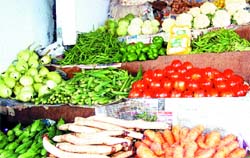 Prices of vegetables have pushed the common man to the wall. Leading the race, tomatoes prices have gone up by 100 per cent. It was available at Rs 30 per kg last week is now pinching the common man with a price tag of Rs 60 per kg.
Only toilet at railway station lies defunct
July 10, 2010
Huge quantity of intoxicants seized
July 7, 2010
Ayurveda varsity in Punjab soon
July 3, 2010
91 yrs after, victims' families accorded recognition
June 30, 2010
Commonwealth Express tells IT
story of India
June 26, 2010
Agent-doc nexus surfaces again
June 23, 2010
Now, watch Sikh history in animation
June 19, 2010
Penury stalks Rafi's nephew
June 16, 2010
'Start calling Lawrence Road Bhai Veer Singh Marg'
June 12, 2010
MC chalks out new plan to solve traffic snarls
June 9, 2010