Govt biased against Jammu migrants, says front
Jammu, July 13
Mohammed Aslam Kohli, president of the Jammu Migrants Front (JMF), today alleged that the government had been discriminating against the migrants of the region in distributing relief.
BJP faces flak for attending all-party meeting
Jammu, July 13
Facing criticism from various Jammu-based political groups for attending the all-party meeting which passed some "controversial" resolutions, the state unit of the BJP is finding it difficult to defend its decision to attend the meeting. Chief Minister Omar Abdullah had called the meeting in Srinagar yesterday to discuss the prevailing situation in the Valley.
Omar, Mufti, Soz pay tributes
Srinagar, July 13
Chief Minister Omar Abdullah and other senior leaders of the National Conference, Congress and the Peoples Democratic Party (PDP) paid rich tributes and laid floral wreaths over the graves of the martyrs of July 13, 1931, and the "Mazar-e-Shohda" here today. They included PCC chief Saifuddin Soz and former Chief Minister Mufti Mohammad Sayeed.



Chief Minister Omar Abdullah along with fellow ministers and NC leaders prays at the martyrs' graveyard at Naqashbandh Sahib shrine in Srinagar on Tuesday; and (right) PDP patron Mufti Mohammad Sayeed pays tributes. Photos: Amin War
Restrictions bring life to grinding halt again
Srinagar, July 13
Normal life came to a grinding halt across the Kashmir valley once again today in view of the restrictions here and in major towns to avoid any untoward incident, while marches called by separatists on the occasion of martyrs' day were foiled.
Mismanagement in distance education dept flayed
Jammu, July 13
The National Secular Forum (NSF) conducted a convention at its head office here yesterday and discussed the problems being faced by the student community.
Police help booth for Amarnath yatris at Kunjwani
Jammu, July 13
With a view to facilitating and assisting the Amarnath pilgrims, the police has set up a special police assistance booth at Kunjwani, on the outskirts of Jammu on the National Highway 1-A here.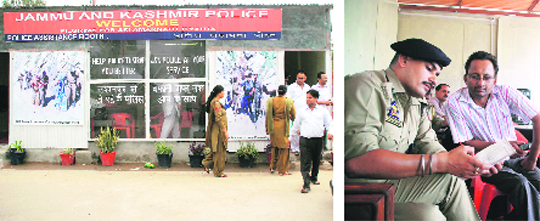 The police assistance booth set up to help and guide Amarnath pilgrims at Kunjwani in Jammu; and (right) a police officer giving information to pilgrims at the booth on Tuesday. Photos: Inderjeet Singh
2 girls go missing in Kishtwar
Relatives take SHO, naib tehsildar hostage
Jammu, July 13
Irked over two girls going 'missing' after they were detained by the police in the Padder area of Kishtwar district late last evening, hundreds of people gathered outside the Padder police station and took the SHO and a naib tehsildar hostage for more than two hours today.
College girl fails in exams, commits suicide
Jammu, July 13
"I know I am on a wrong path, but I cannot help... Please take me home, I am very scared here... I am the owner (creator) of my own conditions (circumstances). Sorry parents. I love you both, take good care of yourself."
Man posing as political adviser to PM arrested
Udhampur, July 13
The police today arrested Manmohan Singh (50) of Delhi, who was posing as political adviser to Prime Minister Manmohan Singh, after he had allegedly been accorded the status of a state guest at Katra in Reasi district.
Frame population policy, govt urged
Jammu, July 13
To mark World Population Week, the Vichar Kranti Manch International, an NGO, held a symposium at old Satwari here today.
SBI staff plant saplings
Jammu, July 13
The State Bank Learning Centre, a nodal training centre for officials in northern India, launched a plantation drive on its premises here today. Many saplings of fruits were planted during the drive in which trainees from different branches of the SBI from Punjab, Himachal Pradesh, Haryana and Jammu and Kashmir participated.