PUNJAB
HARYANA
JAMMU & KASHMIR
HIMACHAL
REGIONAL BRIEFS
NATION
OPINIONS
LETTERS
BUSINESS
SPORTS
WORLD
Friday, July 16, 2010, Chandigarh, India
Updated at 3:00 am (IST)

India-Pak talks end in stalemate
Krishna, Qureshi fail to narrow gap on terror, J&K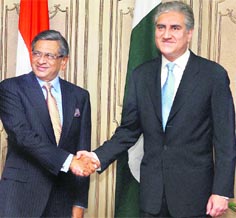 The peace process between India and Pakistan suffered a setback with the foreign ministers of the two countries ending their marathon daylong meeting with serious differences on Jammu and Kashmir and other issues that have bedevilled the ties between the two nations.
External Affairs Minister SM Krishna shakes hands with his Pakistani counterpart Shah Mehmud Qureshi at a meeting in Islamabad on Thursday. — PTI

CAST YOUR VOTE
Should Warren Anderson be extradited?

EDUCATION
JOBS & CAREERS
HEALTH & FITNESS
SCIENCE & TECHNOLOGY
REAL ESTATE

SPORTS & WELLNESS
Rupee goes designer
Gets a symbol
New Delhi, July 15


The Cabinet today approved a new symbol for the Indian Rupee -- an amalgam of the Devnagiri 'Ra' and the Roman capital 'R', minus its stem. With the gaining of the symbol, the Indian rupee joins the elite club of US dollar, British pound, European euro and Japanese yen that currently have their own symbols.
Tribune Special
26/11 began at sea but 190 ports still soft targets
No security plan in place, govt orders security audit
New Delhi, July 15
After spending crores and holding numerous high-level meetings on coastal security post-November 2008 Mumbai attacks, it now turns out that 190-odd small ports and a string of disused ports along the coastline have no security apparatus worth a mention.
'Fake' Encounter
Colonel, Major chargesheeted
Srinagar, July 15
The Jammu and Kashmir Police today filed a chargesheet against a Colonel, a Major and seven others in a case of alleged fake encounter in which three youths were killed in the frontier district of Kupwara in April.
Today's Specials
SCIENCE & TECHNOLOGY

HARYANA PLUS

JALANDHAR PLUS

UNION BUDGET 2010-11
RAILWAY BUDGET
2010-11

NDA 60 Glorious Years
1857 The First Challenge
E - Revolution 2005:
A Two-day IT conclave
Assembly Elections - 2005
Turbans
Chandigarh is 50
125 Years of The Tribune
India: The Tasks Ahead
India at Sixty
A Tribune Supplement
EARLIER FEATURES
On Sundays
On Saturdays
special to the tribune
Visiting Punjab MLAs find their scotch
"Thurra" by any other name smells just as sweet and when the liquor in question is malt whisky from Scotland, it probably tastes a lot better than the local brew from other parts of the world.
Martyr laid to rest after 48 years
Agojar (Dharamsala), July 15
A small and quite hamlet in the lap of Shivalik hills near Palampur was today buzzing with activity. Army men from the Dogra Regiment were present in a large number to receive martyr Karam Chand Katoch whose mortal remains were recovered from Walong in Arunachal Pradesh after about 48 years.

| | |
| --- | --- |
| | Lieut-Gen Jasbir Singh pays homage to martyr of 1962 Indo-China war Karam Chand at Agojar village, near Palampur, on Thursday. Photo: Kamaljeet |
Inside-UAE
Why Khaliwallis take to crime?
Lay offs, shrinking job markets and inordinate delays in payment of salaries are forcing expatriates from India, Pakistan, Bangladesh and Sri Lanka into crime. The number of 'Khaliwallis', everyone agrees, has risen sharply in recent times. Khaliwalli is the term used for people who may have a valid visa or work permit but are no longer working for the company with which they are legally under contract to work in the UAE.
Unified Command to battle Naxal menace
July 15, 2010

Rumble over mining brothers hits Delhi
July 14, 2010
Unite for Kashmir, parties urged
July 13, 2010
Mehbooba says 'no' to PM
July 12, 2010
Spain vs Holland: Who'll win?
July 11, 2010
CBI chargesheets Punjab Speaker
July 10, 2010
Ambala-Delhi rail traffic hit; Hisar highway closed
July 9, 2010
Govt to use Army as 'deterrent' in J&K
July 8, 2010
Ambala afloat, Army in
July 7, 2010
Inter-caste ties behind most honour crimes
July 6, 2010