Good response to Jan Chetna rally of Cong
Haridwar, July 19
A tremendous response to the Jan Chetna rally organised by the Seva Dal of the Congress has somewhat put aside differences among district party leaders over the election of district and city chiefs. Party leaders had even met the high command in New Delhi seeking a close monitoring of the whole election process.
Virmani's re-election as Doon Cong chief hailed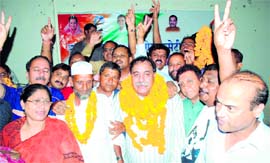 Dehradun, July 19
Congress workers have welcomed the re-election of Harish Virmani as Dehradun Mahanagar President. At the state Congress headquarters in Dehradun, Uttarakhand Congress workers distributed sweets to mark the occasion.


Harish Virmani being felicitated on his re-election as city Congress chief in Dehradun on Monday. A Tribune photograph
5 get 10-yr jail for gang-raping minor
Dehradun, July 19
The District Court today awarded 10-year imprisonment and Rs 5,000 fine each to five persons, Jatin, Vikas, Himanshu, Deepak and Ashish, who had gangraped a minor schoolgirl last year in January.
Jal Nigam workers hold dharna, gherao MD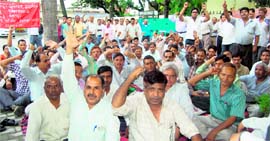 Dehradun, July 19
Field workers of Jal Nigam owing allegiance to the Jal Nigam Jal Sansthan Mazdoor Union Uttaranchal, today gheraoed Bhajan Singh, MD of Peyjal Nigam, protesting against the delay in absorbing 343 field workers and non-fulfilment of other demands.

Workers of Jal Nigam hold a dharna in Dehradun on Monday. A Tribune photograph
NABARD officers get training at FRI
Dehradun, July 19
Six-day advanced training programme for National Bank for Agriculture and Rural Development (NABARD) officers belonging to forestry discipline started at the Scientist Hostel of the FRI here today.
Mussoorie Press Club celebrates foundation day
Mussoorie, July 19
The Press Club, Mussoorie, celebrated its 9th foundation day here today. The chief guest on the occasion state Disaster Minister Khajan Das inaugurated the function at a wedding point by lighting the ceremonial lamp. Folk dancers Nand Lal Bharti and Group from Uttarakhand enthralled the audience with their sterling performances.
Police meeting held on security concerns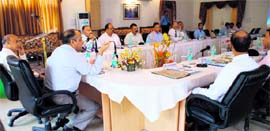 Dehradun, July 19
Acting Director-General of the Uttarakhand police Vijay Raghav Pant chaired the 6th inter-state and inter-agency coordination meeting held at Police Officers' Mess, Kishanpur Jakhan, here today.

Vijay Raghav Pant, officiating Uttarakhand DGP, takes a meeting of senior police officials in Dehradun on Monday.
Residents plant 100 saplings
Dehradun, July 19
Doon Vihar residents, particularly women, planted tree saplings in their locality here today.
Young nature lovers form Nature Restoration Group
Dehradun, July 19
A group of young nature enthusiasts living in the Oil and Natural Gas Corporation (ONGC) Hospital Colony have formed a Nature Restoration Group (NRG) to take their first steps in the direction of restoring nature. Guided by AK Shah, GM (HR), ONGC, the group, which included young volunteers, some as young as 11 years, set forth on the task of planting various varieties of trees in the children park area and open spaces of the hospital colony.
Statement of Sandeep's kin incorrect: Raj Bhawan
Dehradun, July 19
Uttarakhand Raj Bhawan officials have said family members of Sandeep Dangwal, who has been in the captivity of Somali pirates for the past two months, were not denied permission to meet Uttarakhand Governor Margaret Alva as stated in a news report published in Dehradun Plus on July 18.
Increase in Haj pilgrims' quota demanded
Dehradun, July 19
Members of Tanzim-e-Rehnuma-e-Millat had requested the government to increase the quota of Haj pilgrims in Uttarakhand. They had also urged them to complete the construction of the Haj Bhawan in Roorkee.
Woman injured in leopard attack
Dehradun, July 19
A woman received injuries on her neck and face after she was attacked by a leopard in her village in Uttarkashi district late Sunday night.