PUNJAB
HARYANA
JAMMU & KASHMIR
HIMACHAL
REGIONAL BRIEFS
NATION
OPINIONS
LETTERS
BUSINESS
SPORTS
WORLD
Floods: Over 50,000 displaced
Sirsa, July 19
Balwant Ram, a farm labourer from Nejadela Kalan village, provides fodder to his buffalos on the roadside on Barnala Road as 20 members of his and his two brothers' families sit on cots under the trees.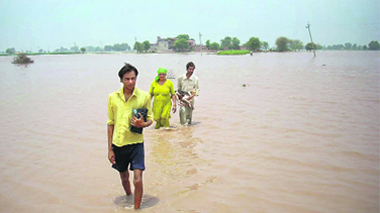 VILLAGE OR ISLAND? Residents wade through flooded fields in Sirsa. Photo: Amit Soni
Govt to compensate families of deceased
Ambala, July 19
The Haryana government would suitably compensate the deceased families whose members had died in the recent floods in the district.
Floods: Dera force helps in rescue
July 16, 2010
Mealy bug infests cotton crop in Hisar, Sirsa, Fatehabad
July 13, 2010
State first to adopt UN's green project
July 9, 2010
Tuition fees for self-financing courses fixed
July 6, 2010
Police to get tough with hospitals
July 2, 2010
State's continuing shame
June 29, 2010
Health services ailing in state
June 25, 2010
State sees red over concentration of powers
June 22, 2010
Theme cities to come up along expressway
June 18, 2010
Blocking roads popular mode of protest in Sirsa
June 15, 2010
Hooda snubs faction-ridden party leaders
June 11, 2010