Rlys waive base fare for cancer patients
Number of patients availing of facility rising
Sudhanshu Verma
Tribune News Service
Bathinda, July 28
The Indian Railways move to help cancer patients by way of 100 per cent concession in base fare has started prompting more and more patients of cancer-hit Malwa belt to avail of the facility, besides providing a big relief to them.
At present, the Indian Railways provides 100 per cent concession to cancer patients in base fare in 3-AC and sleeper class while travelling for treatment. There is, however, no concession in premium charges like reservation charge and super-fast charge.
The escort or attendant of a patient is eligible for 75 per cent concession in base fare.
The facility was announced in the last rail budget. Earlier, cancer patients and their escorts were eligible for 75 per cent concession in the fare.
Bathinda Area Traffic Manager (ATM) Sher Singh said more and more patients have now started availing of the facility. "That was not the case some six to seven months ago when 100 per cent concession was not given," he added.
Nowadays, on an average, nearly three to four patients apply for concession at Bathinda station daily to travel in reserve coaches. "The reservation counters at Bathinda station receive around 125 such applications each month," the ATM said, adding that while some six months back, the figure used to be near about 25 to 30 per month.
Sources in Railways said the figure did not include the passengers who travel in unreserved class after availing of the concession. "If both the figures are combined, the number of cancer patients boarding trains at Bathinda station having concessional-tickets would be much higher," the sources said.
The sources said apart from 100 per cent concession, awareness about such facility had also increased prompting the patients and their family members to avail of the same. Even illiterates and people from remote areas of this belt had started asking for the facility, the sources said.
As far as other facilities for cancer patients are concerned, the Railways has made a provision to provide lower berth to them. Waitlist tickets issued to a cancer patient automatically get confirmed under the Headquarter Quota, provided there is a vacancy in the quota.
It is not necessary that the patient himself has to buy the ticket. His attendant or escort can buy the ticket for him on his behalf. In absence of an escort, a patient could directly contact chief reservation supervisor and other official concerned, in case he needs assistance.
How to benefit from Rly scheme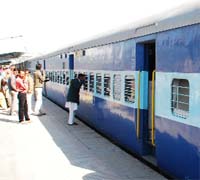 To apply for concession, Bathinda ATM Sher Singh said a cancer patient was required to fill a Railway Appendix Form- 1/17 properly and submit the same at the reservation counters. The chief reservation supervisors could also be contacted for assistance in this regard. Stamps must be affixed at the place assigned for the same on the application form. The form must be duly signed by the patient, he added. Significantly, the application form has to be accompanied by a certificate issued by the institution from where the patient is getting treatment for the disease