All messed up on Bathinda-Chd highway
Rampura Phul (Bathinda), August 1
Stinking stagnant water has been lying on both sides of about a two-km-long stretch on the Bathinda-Chandigarh highway, which crosses through this town, and the authorities concerned are yet to wake up to the situation.
Malwa diary
Sawan Mela attracts devotees in Abohar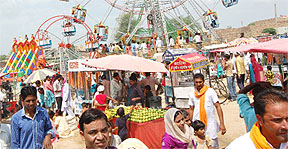 The annual Sawan Mela at the ancient dargah of the Panjpeers of Multan (Pakistan) in Abohar attracted thousands of visitors from the northern India. The devotees had started thronging the mazaars of the five saints to pay obeisance on the eve of the annual Sawan Mela since Thursday.
The annual Sawan fair at Dargah of Panjpeers attracted thousands of people from different states. Photo by writer

PWD engineers declare school building unsafe
Ferozepur, August 1
A team of engineers of public works department (PWD), which carried out the physical inspection of local Hindu Girls Senior Secondary School, found one part of its premises unsafe.
Treatment of Neuro Disorders
Moga scientist designs new molecules
Moga, August 1
Dr Vikramdeep Monga, a young scientist of the Indo-Soviet Friendship College of Pharmacy here, has designed and synthesised new molecules, which will help in developing more effective drugs for curing epilepsy, Alzheimer's disease, Parkinson's disease and other neurological disorders.
Dial-a-tree scheme: Plantation drive launched in Fazilka
Fazilka, August 1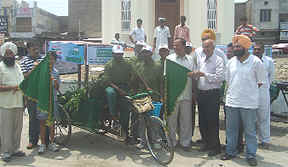 As many as 74 dwellings of this border town were brought under the green cover after saplings of different trees were planted by the volunteers of the Graduate Welfare Association Fazilka through its two green ambulances, which were flagged off by the prominent residents, here today.
Founder members of GWAF Fazilka and other citizens flag off green ambulance on Sunday. A Tribune photograph

Ditch Drain
Forest Dept begins to plant saplings
10000 saplings to be planted by Aug 15
Fazilka, August 1
The forest department, Punjab, has initiated an ambitious project to bring more area under afforestation in the Fazilka sub-division. Under the project, it has started planting saplings on the eastern bank of the Ditch Drain on the border road. So far, more than 6000 saplings have been planted on the vacant track on the bank of the seepage drain.
Lakhowal gets in poll mode
Abohar, August 1
Ringing alarm bells for the ruling SAD in Punjab for the next Vidhan Sabha elections, Ajmer Singh Lakhowal, chief of the Bhartiya Kisan Union and chairman of the Punjab Mandi Board observed during a meeting at Khuyiansarwar today that the Congress and SAD were chips of the same block.
300 kabaddi players undergo selection trials
Bathinda, August 1
The Miri Piri Shahenshah UK Kabaddi Club organised a day-long selection trial at the Rajindra College in Bathinda on Sunday. The trial aimed at selecting players to participate in the upcoming two-month kabaddi camp.
Selection trial for kabaddi in progress at the Rajindra College in Bathinda on Sunday.
A Tribune photograph

SBI holds free medical camp
Bathinda, August 1
Hundreds of people were examined at the free medical check up camp that was organised by the State Bank of India (SBI), Kikkar Bazar branch, and local Deep Hospital, at Partap Nagar Dharamshala today.
Sub-standard Bt cotton
BKU chief alleges foul play in funds distribution
Abohar, August 1
The sub-standard Bt cotton seed that had financially ruined scores of farmers in Abohar and Balluana segments last year, has taken a toll of Abohar unit of the Bhartiya Kisan Union (Lakhowal) now.