Number of Kanwariyas nears million mark
Haridwar, August 1
With the Panchak tenure, which is assumed to be having a negative effect during the Kanwar season getting over late night, a sudden surge in the number of Kanwariyas, as was expected from today onwards, came out true as the city brimmed with Kanwariyas from all over.
Ranikhet Express route extended up to Jaipur on trial
Nainital, August 1
The extension of the Ranikhet Express to Jaipur from August 1 has provided respite to a large number of railway passengers from the region. The train has been extended to the Pink City on a trial basis for now and depending on its success, Jaipur might become its permanent destination.
Rahul Gandhi is youth icon, says Dhasmana
Dehradun, August 1
Congress leader Suryakant Dhasmana said the youth of the state looked up to Congress youth icon Rahul Gandhi with much aspiration. Dhasmana was speaking at a convention held at Govindgarh here today.
2 held with 2,500 gm of yarsa gumba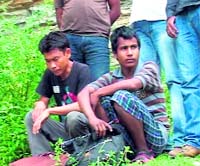 Pithoragarh, August 1
With the latest seizure of 2,500 gm of yarsa gumba by a Special Operation Group of the Pithoragarh police at Tatapani near Jauljibi on the Indo-Nepal border today evening, the Pithoragarh police has recovered a total of 7 kg of yarsa gumba during the past 15 days. "This quantity of yarsa gumba costs nearly Rs 5 crore in the Indian market and Rs 30 crore in the international market," said NA Baharare, SP, Pithoragarh.

Two persons who were caught with illegal yarsa gumba at Pitthoragarh on Sunday.

Cops caught on camera without helmets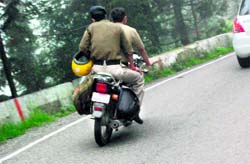 Mussoorie, August 1
On the one hand the Mussoorie police is busy imposing fine on commuters without helmets at the Jay Pee Bend here, and on the other it itself is flouting the same laws with impudence. Police constables were seen riding two-wheelers without helmets and making a mockery of the law they were suppose to uphold.

Policemen ride a motorcycle without helmet in Mussoorie.

Register rape case in Vikas Nagar too: Police
Dehradun, August 1
Two minor girls of Yamunanagar, Haryana, were allegedly raped for four days by four unidentified persons with the connivance of the two men who had enticed the girls to come with the duo, the police said.
St Joseph, DSI bring back sheen on memorials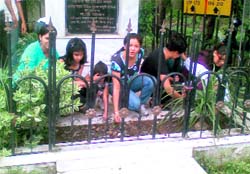 Dehradun, August 1
St Joseph's alumnus in association with the DSI Foundation took up the cleaning and maintenance drive of scruffy memorials for martyrs of Uttarakhand here today. Activists initiated the programme early in the morning from the Shaheed Maj Vivek Gupta Chowk near Balliwala. The volunteers cleaned up the shrine and a new coat of paint was put on it. They have also removed the posters and pamphlets from the shrine of Shaheed Kapil Thapa Dwar.
Members of the DSI Foundation and St Joseph's alumni clean a martyrs memorial in Dehradun on Sunday.

World Breastfeeding Week
Mamta takes out rally to generate awareness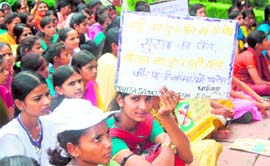 Dehradun, August 1
To mark the World Breastfeeding Week, a city-based voluntary organisation, Mamta, under its adolescent health and development project with the support of TPAK-JICA, Japan, organised a programme here today.


Women participate in a rally to promote breast feeding at the Gandhi Park in Dehradun on Sunday. A Tribune photograph

Workshop for emotional healing of people held
Dehradun, August 1
Smart Emotional Excellence conducted an introductory workshop for emotional healing of people. Renowned speaker and author Mahesh Sharma and therapist in energy psychology Arun Nayar held the workshop on Emotional Freedom Techniques here today.
Panchayat parishad holds camp
Dehradun, August 1
The Akhil Bhartiya Panchayat Parishad conducted a health camp at Selaqui here today. Parishad president PK Agarwal disclosed that the next camp would held in Sahaspur in September. He said the parishad from time to time organised such camps for the betterment of the downtrodden and poorer sections of society in the district.
Mobile health vans pick up speed
Dehradun, August 1
For the first time mobile health vans being run on the public-private partnership (PPP) have collected user charges of Rs 41.52 lakh for the period of April 2009-June 2010.
Curing leukoderma through stem cell therapy
Dehradun, August 1
The National Skin Clinic and Laser Centre, Dehradun, is taking a step ahead in curing the disease of leukoderma through the Stem Cell Transplantation and Melanocyte therapy. Dr Pradeep Kumar Sethi, hair transplant surgeon, announced here today.