Patricia Wentworth: British writer's Mussoorie connection
Ajay Ramola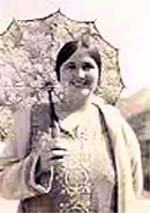 Mussoorie, July 26
Mussoorie has the proud distinction of being the birth place of renowned women writers who have made their mark in the literary world of which Anita Desai is one. However, very little is known about British crime fiction writer Patricia Wentworth, alias Dora Amy Elles, in 1878 who presumably lived at Landour Cantonment, Mussoorie.
Patricia was the daughter of British Army officer Lt-Gen Sir Edmond Roche Elles who married Clare Gertrude Rothney in 1878. Lt-General Elles was commissioned in 1867 in the service of the Royal Artillery. He married Clare, daughter of General Rothney, in January 1878 and in November the same year Patricia Wentworth was born in Mussoorie. She was baptised in one of the churches of the town. The year of her birth also coincided with the establishment of Scotland Yard's CID. Patricia, alias Dora, and her two brothers were brought by their parents to live with a grandmother. Later, she attended Black Heath High School for Girls, a well-to-do day school located not far from the military establishments at Woolwich, London.
After her graduation, she returned to India. She was first married to Lt Col George Dillon in 1906. He died shortly after and left her with a young daughter and three stepsons. Patricia's first published work appeared, like Rudyard Kipling's, in the pages of the Civil and Military Gazette, a leading newspaper of the British Raj in Punjab.
She went back with her children to England and published six historical fiction novels between 1910 and 1915. In 1920 she married Lt Col George Oliver Turnbull and had one daughter. Lt Colonel Turnbull assisted her in preparing her manuscripts for publication. Patricia lived in Surrey, and after writing several romance stories, in 1920 she turned her hand at crime. She wrote her first mystery novel "The Astonishing Adventure of Jane Smith" in 1923. Her first Maud Silver book, "Grey Mask" was written in 1928. Nine years and 15 mystery novels later, she returned to Maud Silver, who became her most popular character. In her novels, Miss Silver is a retired governess who becomes a private detective and works closely with Scotland Yard, especially Inspector Frank Abbott.
Patricia wrote over 70 novels. Her other novels are "The Fire Within" (1913), "The Astonishing Adventure of Jane Smith" (1923), "The Annam Jewel" 1924, "The Red Lacquer Case" (1924), "The Black Cabinet" (1925), "The Dower House Mystery" (1925), "The Amazing Chance" (1926), "Anne Belinda" (1927), "Hue and Cry" (1927), to name few, but Maud Silver is perhaps Patricia's best-known character. Patricia's other characters include Ernest Lamb, a chief investigator who sometimes works with Miss Silver, and Randal March, chief constable of the county where many of Miss Silver's cases occur.
Despite her growing reputation as a writer, she never courted fame, preferring a quiet existence devoted to such typical British middle-class pleasures as the theatre, gardening, motoring and keeping pet dachshunds. Her last novel "The Girl in the Cellar" was published in the year of her death, in January 28, 1961.
Mussoorie can cherish the fact that Patricia Wentworth will always be remembered as one of the mistresses of classic crime on par with other mystery writers of the time.