PDP not to attend all-party meeting with PM
New Delhi, August 6
The PDP will stay away from the Jammu and Kashmir all-party delegation expected to call on Prime Minister Mamohan Singh this Monday to seek his intervention for defusing the Valley's crisis. State Deputy Chief Minister Tara Chand is also unlikely to attend.
Curfew, protests continue in Valley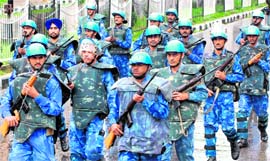 Srinagar, August 6
There was no relaxation in the curfew restrictions on the eighth consecutive day today as protests against the killings were held at several places across the Kashmir valley.


Rapid Action Force (RAF) personnel stage a flag march in curfew-bound Srinagar on Friday. The force was rushed to Kashmir by the Centre to beef up security. Photo: Amin War
Speed up rescue operations: Doda MLA
Udhampur, August 6
Expressing grief over loss of many lives following the cloudburst at Leh yesterday, Doda MLA Abdul Majid Wani has requested the state authorities to expedite rescue operations.
Missing Kishtwar girls found from Jammu madrasa
Udhampur, August 6
The police today found two girls from a madrasa in Jammu, who went missing last month from Gulabgarh. Both were handed over to their parents, the police said.
Ladakh students in Jammu worried about families
Jammu, August 6
As the communication system has completely collapsed due to flash floods in Leh, over 3000 students from Ladakh, studying in different colleges of Jammu, are helplessly watching the situation as they cannot contact their families.
Pilgrims stranded as landslide blocks Reasi-Shiv Khori road
Reasi, August 6
Many pilgrims heading towards Shiv Khori were stuck in a major traffic blockade caused by a landslide on Reasi-Shiv Khori Road at Zandi Morh. Hundreds of vehicles, too, were stranded on both sides of the landslide, about 50 km from Reasi.
Restore communication, road network in Leh, govt urged
Jammu, August 6
The All Ladakh Students Association, Jammu, has expressed concern over the grim situation in Leh caused by a cloudburst and flash floods yesterday.
Chenab crosses danger mark

Jammu, August 6
As the water level of the Chenab has crossed the danger mark, the authorities has shifted all residents of the Pargal area of Akhnoor to a safer place as a precautionary measure as the higher reaches have been experiencing a heavy rain since Thursday evening.

The Chenab flows above the danger mark in Akhnoor on Friday. Tribune photo: Anand Sharma
Army truck falls into Chenab, 3 feared dead
Udhampur, August 6
Three jawans of 4 Rashtriya Rifles are feared dead as the truck they were travelling in fell into the Chenab near Kishtwar today. Their colleague, however, escaped as he managed to jump out of the rolling vehicle.
Jammu MC set to tackle floods
Jammu, August 6
The Enforcement wing of the Jammu Municipal Corporation (JMC) swung into action and deployed men and machinery swiftly in the Shivalikpuram area at Janipur to tackle flood-like situation due to heavy rain.
Gear up to have own homeland in Valley, Kashmiri Pandits told
Jammu, August 6
The Kashmira Vahini today exhorted the Kashmiri Pandit community to prepare themselves for a struggle to achieve their socio-political right of a separate homeland in the Valley.
Harsh questions Omar's stand on political package
Jammu, August 6
Harsh Dev Singh, former Education Minister and working chairman of the Panthers Party, has questioned the stand of Chief Minister Omar Abdullah on a "political package" and his rejection of an "economic package" for the state.
Army supply depot workers stage dharna
Jammu, August 6
Workers of the Army Field Supply Depot, Bari Brahamana, continued their dharna in support of their demands here today.
Bus stand presents a grim picture
Jammu, August 6
Blocked drains, littered garbage and leaking ceilings of a platform and ticket counters. This is what the general bus stand looks like. It presents a grim look after continuous rain for the past two days in the city.
Compensation for cloudburst-hit sought
Jammu, August 6
The Indian Council for Enviro-Legal Action has expressed shock over the devastation caused by cloudbursts in Leh.
One killed in encounter with militants
Jammu, August 6
A guide of Special Operations Group (SOG) was killed as a joint posse of the SOG and Rahstriya Rifles was engaged in an encounter with three militants holed up in a thick forest near Sangiot in Mendhar tehsil of Poonch late tonight. Rukhsar MIrza, a guide of the SOG, who guided the security forces was killed on the spot.