There was a time when joining the civil services was a matter of prestige. Increasingly now the public looks upon the entire gamut of civil services as self-seeking, greedy and corrupt. Some perceptions and realities need to be juxtaposed sequentially and re-stated because they impact hugely upon the quality of governance.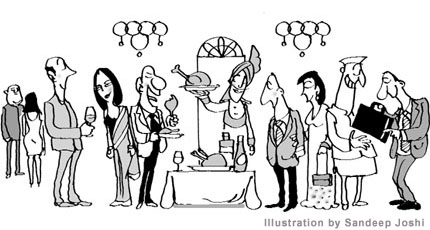 The civil service is not an island floating on its own, but a reflection of the ethics and mores that exist in society. When the arena of politics is so highly contaminated, it is too much to expect that civil servants alone would be distilled purity. Particularly when instant protection is given by the law makers to inveterate lawbreakers on grounds of caste, community, religion, and money power, there is really little hope that the civil services alone will rise and miraculously provide good governance.
But first a little reverie about the times when things were different. As the seven-year-old daughter of a woman officer recruited to the Central Secretariat Service post independence, I spent my childhood in the fifties playing with children of my mother's colleagues in the Ministry of Home Affairs. A picnic at Surajkund, a family movie and an occasional dinner party were the highest points of the evening life of the officer class, otherwise spent in the corridors of New Delhi's Khan Market where they bought everything from groceries to the first gas burner.
Looking back, the most distinguishing feature was the complete absence of anyone outside the civil services in this select group and their modest-even spartan lifestyles. (Notwithstanding that ICS households baked a caramel custard pudding instead of the pedestrian sooji halwa.)
In the late sixties, after I cleared the IAS, I was trained in turn by three stalwarts — T.N. Seshan and later B.N. Tandon and Gopi K. Arora. All of them (at least then) maintained unpretentious lifestyles both in the office and at home. A game of bridge or an evening of classical music helped tie a familial knot that has lasted more than 40 years.
Conversations always carried a sense of admiration for honesty and hard work and an abhorrence and intolerance for wheeling-dealing. The minimalism of their homes, the simplicity of their families and their self-made children was what I observed.
But elsewhere something else was happening. The children of once deprived families had grown older, entered the civil services yearning to announce their arrival. There was also a need to look after the biradari which had nurtured them through a disadvantaged childhood. Some longed to flaunt their new-found status and a realisation came that proximity to power could help to leapfrog into positions of even greater influence out of turn.
Postings with the power of patronage and great visibility could actually be manipulated quite effortlessly just by using the right connections. One powerful connection led to the next. The colours and contours of the civil service began to change, making this the preferred route for an increasing number of officers as the years passed. Products of the old school were not eliminated altogether because all governments need honest, hardworking officers to have credibility and substance. But they had to be really exceptional to reach the top.
For the greater part, garnering and wielding visible authority became heady business. To take a rather extreme example of encounter killings criminals were regularly liquidated in stage-managed episodes all in the name of saving the public. A former Chief Secretary of Maharashtra said emphatically: "Many policemen hang out with criminals and are often engaged by rival gangster groups to eliminate their rivals. Sometimes politicians promote these killings. Sometimes it is a purely police enterprise." But he added, "How else can extortion by the underworld be stopped? Ultimately, a society gains; does it not?"
In direct contrast stands another phenomenon which has demoralised the service ethos incalculably. In every state, there is a section of officers (and they come from rural, small town backgrounds or could be the products of elite backgrounds and institutions,) who spurn the politician-businessman nexus. They neither hanker for powerful jobs while in service nor crave Governorships, constitutional posts, or government perks after retirement.
Regardless of what bosses wish to hear, such officers can be infuriatingly straightforward and brutally frank. The political executive and a pliable senior bureaucracy complain about their pig-headedness but use them like kitchen devices — indispensable, but easily replaceable. Over the years, their marginalisation has destroyed idealism and initiative; also given a mistaken message to young officers: the future does not lie in following the rulebook. Honesty and uprightness can actually flush you out.
Instead, amassing and displaying wealth and wielding visible authority are seen as the true signs of success. When the bureaucrat-politician-businessman links are strong and interdependent, no Civil Service Authority or Public Service Law (we hear of) can alter the picture significantly. Only a Lokpal (Ombudsman) can investigate alliances in high places founded on dishonesty.
Sadly, however, the Lokpal concept has been shelved repeatedly for 44 years. The Benami Transaction Act (1988) is bereft of rules for 22 years because notifying the rules will immediately render all benami transactions at the risk of forfeiture. Despite the Second Administrative Reforms Commission prodding the government to move promptly on both these fronts, there is no tangible progress. So we continue to rely on the Central Vigilance Commission and the Central Bureau of Investigation who have given ample evidence of being inept, partisan and inefficient for too long.
Alternatives have been tried elsewhere. Indonesia established a Corruption Eradication Commission — born out of public reaction to the brazen corruption during 30 years of President Suharto's rule. So irrepressible was the public outcry in 1998 that the incoming government was forced to create a powerful anti-corruption agency — Komisi Pemberantasan Korupsi — as an Act of Parliament. KPK's resounding success (at least until early 2010) — carries some lessons for India.
The KPK has reportedly prosecuted and jailed over 100 high-ranking officials in five years. It has won every case before the corruption court and had all verdicts upheld by the Supreme Court. Indonesia says her ranking in the International Corruption Perception Index has improved thereby, giving the country a more ethical reputation worldwide.
Among others, the KPK has jailed a Minister, Members of Parliament, heads and key officials of the Central Bank, the Election Commission, the Competition Commission, Governors and Mayors, as well as senior officers from the police and the Attorney General's office. It has also jailed businessmen, heads of private companies and notably the father-in-law of the President's son. Because KPK is headed by a five-member Commission which operates as a collegium, the manipulation of the entire body becomes very hard. KPK Commissioners are identified by a special selection team appointed by the President from among known leaders in society and representatives from the prosecution and the police. Names of prospective candidates are placed on a website for public scrutiny. Ten candidates are recommended by a selection committee to the President, who then sends the names to Parliament which makes the ultimate choice of five Commissioners.
The Indian polity badly needs a similar system to stem the rot. Meanwhile, there is a lot members of the civil services can do by refusing to join the world of corruption-ridden interdependencies. Also by refusing to keep mum. When a few in every service still have a sense of ethics left and feel disturbed and angry when they see trade-offs taking place, they need to rally together and tell colleagues that following the rulebook may not bring immediate results but will ultimately give peace of mind — more precious than anything money or power can buy once retirement comes.
The writer is a former Secretary to Government of India and Chief Secretary, Government of Delhi