Golden sunset

A panoramic view of the sunset in Ludhiana. Tribune photo:Himanshu Mahajan

SWING OF JOY

A girl in a joyous mood during Teej celebrations at Khalsa College for Women in Ludhiana. Tribune photo:Himanshu Mahajan
Saga of unwed mother
Infant's fate was decided in the womb
Ludhiana, August 6


Before he could open his eyes, named or feel the touch of his mother, the one- day- old infant (boy), who was rescued by the police on Wednesday night, was a silent spectator to all harsh cruelties of the world.

An infant in safe custody of the Ludhiana police. A Tribune photograph
Snatchers strike twice despite alert
Ludhiana, August 6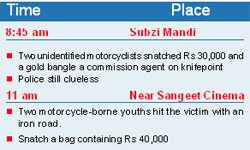 High alert in city notwithstanding, snatchers struck twice in different parts of the city today, cocking a snook at heavy police posse of police. The first incident took place at around 11 am when two motorcycle-borne youths snatched a bag containing Rs 40,000 from a factory employee near Sangeet Cinema. The accused also hit an iron road on the head of the victim, identified as Kaher Singh (66), working with Diamond Engineering Works at Partap Chowk.
15-year-old girl feared 'abducted'
Ludhiana, August 6
It has been nearly 10 days since a 15-year-old girl was allegedly abducted by five women running a flesh trade racket in Shimlapuri. But, except an FIR, the police is not doing enough to trace the victim and nab the culprits.
Lying to court costs man dear
Ludhiana, August 6
Telling a lie to seek adjournment of a case has landed accused Parminder Singh, alias Amit of Gali No: 2, Harkrishan Vihar, Meharban, in a trouble with a judge ordering an FIR against him for falsely claiming that his mother had expired.
Classes X, XII get tougher
Maths compulsory to pass
Ludhiana, August 6
Lakhs of students appearing every year for Class X and Class XII examinations all over Punjab, under the Punjab State Education Board (PSEB) have to burn midnight oil to clear it.


City entry points in for a makeover
Ludhiana, August 6
The Greater Ludhiana Area Development Authority (GLADA) has chalked out a plan for the beautification of entry points to the city from Chandigarh and Ferozepur sides at an estimated cost of Rs 80 lakh.
Girl hatches plot against parents
Asks lover to shoot her to involve kin in fake case
Mandi Ahmedgarh, August 6
Blinded in love, a resident of Malerkotla town, with intent to involve her parents in a fake case, asked her fiancé to fire a shot in her limbs.
Narrow escape for family as electric pole falls on house
Ludhiana, August 6
It was a harrowing experience for Hardev Singh, resident of Jagdish Nagar locality near Dugri, and his family members when two electric poles supporting a transformer fell on the outer wall of their house early this morning.
Farmers to meet against GAIL on Aug 10
Doraha, August 6
A meeting of peasants affected by the gas pipeline was held at Comrade Krishan Kumar Kaushal Memorial Bhawan here yesterday.
Breastfeeding patterns vital for treating ADHD, dyslexia
Ludhiana, August 6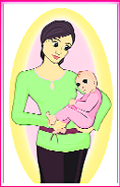 Breastfeeding patterns among children up to the age of six months have become elemental part of symptomatology for the homeopaths to treat children suffering from behavioural problems, including attention deficit hyperactivity disorder (ADHD) and dyslexia. The behavioural problems are constantly on the rise among children below the age of 15 years, for which more and more people are turning to homeopathy. Referring to the recent cases of the ADHD, Dr Muktinder Singh, a paediatrician at Homeocare clinic, said the "abnormality" in the breastfeeding pattern of the children between zero and six months enables homeopaths to administer treatment so as to prevent the disorder.
Campaign against gastroenteritis
Ludhiana, August 6
Extending support to the district health authorities, IMA, Ludhiana, today launched a campaign against gastroenteritis in the slum areas near Budha Nalah.
Rationalisation Proposal
Education dept smells rat
Heads warned against fake admissions, special teams to verify rectified reports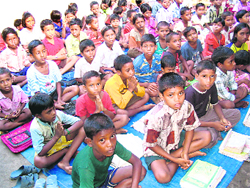 Mandi Ahmedgarh, August 6
Suspecting foul play in the submission of number of admissions done in various subjects at government schools of the state, the education department has decided to initiate action against erring headmasters and principals.