M A I N N E W S
112 dead in Leh flash floods
Yangchan Dolma & Ehsan Fazili
Tribune News Service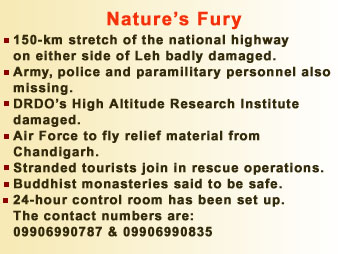 Leh/Srinagar/New Delhi, August 6
A cloudburst past midnight followed by flash floods and mudslides caught residents, many of them fast asleep, napping around 2 am last night. Some were washed away and many were seriously injured. The death toll rose to 112 (according to PTI) by late evening and hundreds more, among them Army, police and paramilitary personnel, were said to be missing. The number of the injured was put at 350.
The dead include three Army Supplies Corps jawans and three Jammu & Kashmir Armed Police (JKAP) constables. The JKAP building was also washed away in the rains.
Several residential and commercial areas in Leh, capital of the cold desert region of Ladakh, were flattened and road and air links were disrupted with water inundating the runway and several bridges on the Srinagar Leh highway giving way.
At Leh, the district hospital was flooded and the bus stand disappeared. Several mud-and-stone houses were washed away and cars could be seen floating. The headquarters of the BSNL, the camps of the Indo-Tibetan Border Police and the CRPF and several government offices sustained extensive damages.
The worst affected were the New Bus Stand area and Choglamsar village close to the town. The Leh-Srinagar highway remained closed for traffic for the second consecutive day while the Leh-Manali road also remained closed to traffic the third consecutive day due to landslides and damaged bridges. Hundreds of tourists, including foreigners, found themselves stranded.
Over 6,000 Army and ITBP personnel were engaged in rescue and relief operations, said J & K DGP Kuldeep Khoda. Security personnel were also rushed from Kargil. Medical camps have been set up to treat the injured while more serious cases have been referred to the Army and ITBP hospitals.
A large number of volunteers including domestic and foreign tourists also joined the rescue operations.
The Leh town wore a deserted look today with residents scrambling for safer places following a prediction by the Head Lama that more cloudbursts would occur later tonight.
The Air Force Station at Chandigarh is expected to fly drop sorties on Saturday, if the weather fails to improve. Although an IL-76 transport plane carrying dry rations, medicine and blankets was ready to fly on Friday, the planned flight was cancelled because of the inclement weather and the condition of the runway at Leh. AN-32s and helicopters would be pressed for dropping relief material if landing is again ruled out on Saturday, said IAF sources. (Additional reporting by Vijay Mohan)