M A I N N E W S
The Tribune team on-the-spot

Ladakh: STILL bruised and battered
Ajay Banerjee writes from Ladakh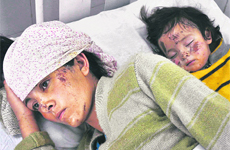 A mother with her injured child being treated at Army hospital. Tribune photo: Mukesh Aggarwal
August 9
A monumental effort and hundreds of crores of rupees would be needed to rebuild Leh and its surrounding hamlets — ravaged by the ghastly cloudburst — across this remote region and restore some kind of normalcy. With winter soon likely to set in, time is fast running out for the administration and the people.
The Army, on its part, will have to come up with a massive effort to reconstruct the national highway and its (Army) infrastructure.
The Friday flash floods have flattened scores of hamlets in and around Leh, with ruined roads, broken bridges, ravaged shops, schools and buildings, clearly depicting the extent of tragedy.
To make matters worse, there is no hope of the reconstruction work starting in the coming days. The biggest task is to rebuild the homes. The meagre compensation of Rs 1 lakh offered by the state government to each family is clearly insufficient.
The death toll mounted to 165 on Monday, while 400 persons are still missing. More than 500 persons have been injured. At present, around 20,000 people are dependent on the Army or the civil administration for food and shelter. People, who have lost their homes and shops, have been left to fend for themselves to rebuild their houses is concerned.
"The men of my family have gone back to out village to find what can be salvaged. We don't know what the future has in store for us," said Sakshi Dolma, while talking to this correspondent at a relief camp.
The biggest hurdle in starting the reconstruction work is non-availability of cement in the area. Roads may not open for weeks and even if they do, traffic will move at a snail's pace due to the massive damage they have suffered.
The IAF was today told that its IL-76 transport planes could be asked to ferry cement from Chandigarh. Each plane can carry around 20 tonne of cement, however, the priority for the IAF at the moment is to carry the vital equipment like bulldozers, telecom and power cables and folded iron bridges. They are also flying the injured to Chandigarh.
The other problem is shortage of labourers, who would be required in great numbers to rebuild the infrastructure. A large numbers of labourers have gone back. The rest, who also wanted to
return, were cajoled to stay back by the district administration yesterday.
Schools, panchyat ghars and community centers are full of slush. The clearing work is yet to take off here. Water lines have been uprooted and Leh is being provided water through tankers.
On the military front, there has been widespread damage. The posts along the LoC are cut off. The General Officer Commanding, 14 corps, Lt Gen SK Singh today said the top priority is to open the national highways between Leh-Kargil and Leh-Rohtang. " By the end of this week, the highways will be open," he said. Some of the posts in Tyakshi near Turtok have been cut off, while residents of five villagers around Tyakshi are under Army's care. Meanwhile, satellite phones were set up at relief camps by the BSNL, allowing people to talk to their families.
IAF's daring rescue
Tribune News Service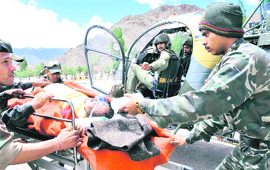 A rescued person being taken to Army hospital at Leh on Tuesday. Tribune photo: Mukesh Aggarwal
Leh, August 9
The IAF's Siachen Pioneers, a chopper unit at Leh, was today called in to rescue 89 persons, including 81 foreign nationals, who had been trapped for three days in the remote Zanskar valley that does not any have road access even under normal circumstances.
With the experience of having conducted several sorties to Siachen and similar tough areas, Wing Commander Manish Patel landed the first sortie on an open ledge overlooking the Zanskar river around 6 am. Over the next seven hours, IAF pilots undertook 63 sorties to the narrow gorge that hardly offered enough turning radius to even small Chetaah choppers. It was not possible to fly the bigger Mi 17 in that kind of narrow space, said Air Vice-Marshal Jaswinder Chauhan, Air Officer Commanding of the J&K area.
The group of foreigners were part of a group of 130 trekkers from 12 countries and were stranded at Skyu, a small hamlet.
Each Cheetah helicopter can accommodate a maximum of three passengers at sea level. This rescue effort was carried out at an altitude of 11,000 feet, around 30 km off the Leh-Kargil road head near Nimu. In this case, only one or two persons could be accommodated in each sortie. Some of the persons were injured. The flying time for the Leh-Zanskar-Leh trip was 45 minutes and six choppers were pressed into service.
Of the 81 foreigners rescued today, 17 were from the UK, 17 from France, nine from the Netherlands, eight from Czech Republic, seven from Germany, four from Israel, four from Switzerland, four from Romania, three from Austria, three from Australia, three from Italy and two from Spain. Six local guides and three porters were also evacuated. The IAF personnel provided first aid to the injured.
However, Karnataka cadre IAS officer Anand Subba Rao was not so lucky. He was airlifted from the Pang area on the Leh-Rohtang road and was declared "brought dead" at the Army hospital. He could not survive the cold and lack of oxygen for three days at Pang. The officer and his wife were part of a 16-member group.