Three militants shot dead in Bandipora
Srinagar, August 12
The Army killed three militants in an encounter in the forests of Bandipora district today. It also foiled a militant plot to target the Independence Day celebrations and seized a huge quantity of arms and ammunition from Sangrama.
Rajouri Ambush
One more succumbs to injuries
Jammu, August 12
Even as security forces continued their search operations in the Thannamandi area of Rajouri district for the second straight day, another victim of the militant attack succumbed to his injuries late last night at a garrison hospital, taking the death toll to two.
BSF jawan held for repeatedly raping minor daughter
Jammu, August 12
It sounds incredible but true. A minor girl in Nowshara subdivision of Rajouri district has complained to the police about her repeated rape by none other than her own father, who is a BSF jawan.
Army vehicle washed away, 2 jawans rescued
Jammu, August 12
A water tanker of the Army was washed away while two soldiers were rescued after they were trapped in the flash floods in a rivulet in the Mendhar area of Poonch district today.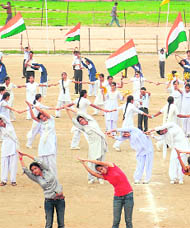 Schoolchildren take part in the Independence Day rehearsal at the Mini Stadium in Parade on Thursday. A Tribune photograph
Intrusion bid foiled, militant killed
Jawan dies in hut collapse
Jammu, August 12
On the first day of the Buddha Amarnath yatra to Poonch district today, Army troops foiled an intrusion bid and gunned down a militant near the Line of Control in the Peer Badesar area of Rajouri district.
Jawan dies in hut collapse
Murdered, not killed in police firing
Jammu, August 12
Special Public Prosecutor at Samba, Shri Ashok Parihar has drawn the newspaper's attention to a report published on July 24 this year under the headline, " Amarnath Land Agitation : BJP, Sangharsh Samiti hold separate functions".
Autonomy demand synonymous with independence: VHP
Jammu, August 12
Apparently "disappointed" with the performance of the BJP to counter the 'pro-separatist' agenda of the state government, the Rashtriya Sewamsevak Sangh (RSS) - the head of the Sangh Parivar - today came out openly to oppose the proposal of granting greater autonomy to Jammu and Kashmir.
Newly appointed IYC national secy gets warm
Jammu, August 12
The Pardesh Youth Congress (PYC) and the National Students Union of India (NSUI) accorded a rousing reception to newly appointed national secretary of the Indian Youth Congress (IYC), Mohd Shahnawaz Choudhary, who returned from New Delhi this morning. He was nominated by Rahul Gandhi for the post last week.
'Anti-India slogans bid to vitiate peace'
Jammu, August 12
An emergency meeting of the office-bearers of the Jammu State Morcha (JSM) was held here today to discuss the situation emerging in the city after some miscreants shouted anti-India and pro-azadi slogans in front of the main gate of Jammu University.
Women plant saplings
Jammu, August 12
To save mother earth from environmental imbalance and to maintain ecological balance, the World Women's Awakening Organisation (WWAO) today launched plantation drive under the title of "Go Green Jammu 2010" at Handa College of Education.
BJYM vows to hoist Tricolour at Lal Chowk
Jammu, August 12
The Bharatiya Janata Yuva Morcha (BJYM) has announced that it would hoist the National Flag at Lal Chowk, Srinagar, on Independence Day.
MC drive against milk adulteration
Jammu, August 12
The Jammu Municipal Corporation today conducted a drive against the adulteration of milk in various areas.Around 14 milk cans were lifted and samples were sent to laboratory for analysis. Two milk cans found sub-standard were destroyed on spot. A fine of Rs 2,200 was realised from erring milk vendors.
Four of family killed in accident
Jammu, August 12
Four members of a family, including a woman, were killed when their car fell into the Chenab near Kela Morh in Ramban district this evening. The police said the car was going to Srinagar from Jammu.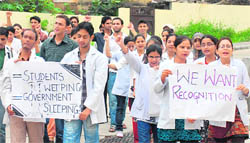 Students protest de-recognition
Jammu, August 12
Students of Indira Gandhi Dental College, Jammu, today protested against the reported de-recognition of their college by the Dental Council of India (DCI).


Students of Indira Gandhi Government Dental College hold a rally in Jammu on Thursday. Photo: Inderjeet Singh
Soldier electrocuted near border
Jammu, August 12
An Army jawan was electrocuted last evening near Surey Chak, a forward village on Indo-Pak border in Arnia.