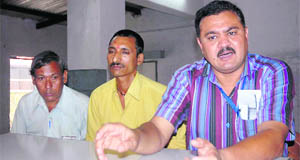 Statehood agitators plan stir
Dehradun, August 13
Expressing resentment over the non-fulfilment of their demands, the Uttarakhand Anodlankari Sanyukt Manch said today that they would launch an agitation.

Manoj Dhyani, convener of the Uttarakhand Andolankari Sanyukt Manch, addresses a press conference in Dehradun on Friday. A Tribune photograph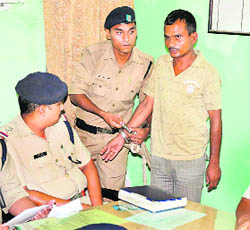 Wanted UP criminal held at Lakshar
He escaped from Meerut jail and has a reward of Rs 15,000 on his arrest
Haridwar, August 13
In a major success, the Haridwar police today arrested a criminal wanted desperately by the Uttar Pradesh police in various cases. Sunil Valmiki. alias Rajesh, of Fazilpur Khatikpur, Meerut, was arrested by the Lakshar police at the Lakshar railway station.


Sunil Valmiki, a wanted criminal, in police custody. A Tribune photograph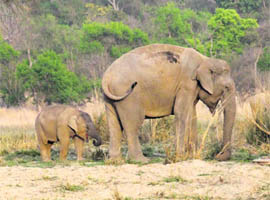 Jumbo trio ravages crops at Sahastradhara
Dehradun, August 13
In a new twist to man-elephant conflict in Uttarakhand, the movement of pachyderms has been noticed in the Nagalhatnlala gram panchayat region of Sahastradhara in Dehradun. Numbering three, these elephants have destroyed paddy crop and uprooted ginger plants in the fields. These jumbos, which hide in the nearby forest areas, have taken a fancy to Brahmapuri, Bandawali and Keri Mansanghwali village areas. Crops on 10-12 bighas have been destroyed by the elephants.
Irish people keen on learning Sanskrit: Teacher from Dublin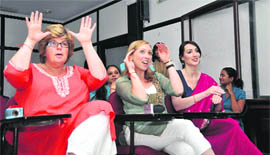 Dehradun, August 13
Making learning interesting and pupil-friendly comes naturally to John Scottus School (Dublin) teacher Rutger Kortenhost, who has himself not stopped learning. In between teaching English to schoolchildren and holding training classes for teachers in the state, Rutger has also enrolled himself at a institute in Puducherry, where he is learning Sanskrit.

Irish teachers at an English language teaching programme in Dehradun on Friday. A Tribune photograph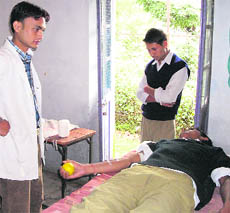 NSS organises blood donation camp
Mussoorie, August 13
More than 51 unit of blood was collected in a blood donation camp held under the aegis of the National Social Service Scheme (NSS) at Ghananand Government Inter College here today. The students from various schools and colleges participated in the camp. Chief guest on the occasion was the Chief Adviser to the Chief Minister, Rajesh Naithani, also donated one unit blood on the occasion.

Students donate blood at Ghananand Government Inter College in Mussoorie on Friday.

Cycle rally to mark ONGC foundation day today
Dehradun, August 13
The ONGC is celebrating its foundation day on August 14. To mark the celebration, a cycle rally will be organised which will be flagged off by ONGC CMD RS Sharma.
IG Ajay promoted as ADGP
Dehradun, August 13
Inspector General of Police (IG) Ajay Kumar has been promoted to the rank of Additional Director General of Police (ADGP) by the Uttarakhand administration.
Villagers protest water shortage
Nainital, August 13
Residents of Majiyakhet and the Kafalkhet areas of Bageshwar are facing a tough time on account of water scarcity. The agitated villagers went on to stage a demonstration at the office of the Jan Sansthan on Wednesday demanding an immediate restoration of water supply to their villages.
Village head thrashed
Nainital, August 13
On being told not to tie their domestic animals in the middle of the road, certain villagers went on to thrash the gram pradhan of a village near Kitcha in Udham Singh Nagar, breaking his leg in the incident. They are also accused of abusing him on account of his being from a Scheduled Caste.