Man kills daughter for honour
Nainital, August 4
In a gruesome incident reported from Kashipur, a father allegedly killed his daughter in a fit of rage after his brother passed a comment on her social conduct. According to information, the incident took place at Bhogpur Dam village near Kashipur.
Five kids drowned in pond
Haridwar, August 4
Five minor children got drowned in a pond at a village near Piran Kaliyar today. Their bodies were recovered as residents of the area watched in utter shock. According to sources, five children, all belonging to Muslim families, were playing near a pond at Rehmatpur village near the pilgrim area of Piran Kaliyar, about 6 km from Roorkee.
Panel summons Secy over move to scrap quota in Class I posts
Dehradun, August 4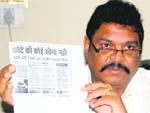 Suresh Rathore, vice-chairman of the Uttarakhand Commission for Scheduled Castes and Scheduled Tribes, expressed strong resentment over alleged efforts made by the Personnel Department of the state government to deny reservations in Class I posts to the members of the SC/ST and summoned Ramesh Chander Lohni, Joint Secretary, Personnel Department, to the commission office here today.

Suresh Rathore, vice-chairman of the Uttarakhand Commission for Scheduled Castes and Scheduled Tribes, addresses a press conference in Dehradun on Wednesday. A Tribune photograph

Fire breaks out at SIDCUL unit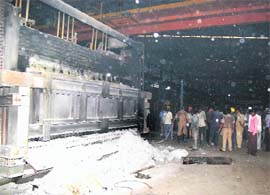 Haridwar, August 4
A major tragedy was averted when a fire broke out at an aluminum factory at the Integrated Industrial Estate, due to the immediate response of fire fighters. The incident happened in a factory named Sterlite which deals with the production of aluminum and suffered huge losses due to the fire.




Fire men douse fire in the Sterlite factory in Haridwar on Wednesday. Tribune photo: Rameshwar Gaur

Hydro power project only hope for employment at Munsiyari: Residents
Pitthoragarh, August 4
The agitation to start the 261 MW hydro-electric project in the region in the border sub-division of Munsiyari has been gaining ground as the locals feel that they have been deprived of all economic benefits and local employment opportunities after the closure of India-China border trade since 1962.
NREGA: Officials pulled up
Nainital, August 4
Peeved at the lax functioning of officials with regards to implementation of National Rural Employment Guarantee Act (NREGA), the Chief Development Officer (CDO) Dr Pankaj
Villagers hold dharna against highway widening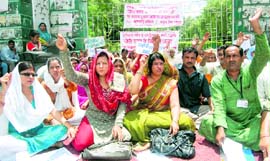 Dehradun, August 4
Agitated members of the Gram Panchayat, Harrawal, Vikas Khand Doiwala aired their grievances on the decision of starting a project to widen the highway at Harrawala. They staged a dharna at the Gandhi Park after which they took out a procession till the District Magistrate's office today.


Villagers of Harrawal protest at the Gandhi Park in Dehradun on Wednesday. A Tribune photograph

Minister warns oil companies against black marketing
Dehradun, August 4
Uttarakhand Civil and Supplies Minister Diwakar Bhatt today took oil companies to task over the issue of black marketing of LPG cylinders in Uttarakhand. At a meeting with oil companies in Dehradun, Bhatt warned the companies that the concerned company will put in defaulters list if the LPG cylinder were not provided to customer within seven days of the booking.
No liquor on I-Day
Dehradun, August 4
Dehradun DM D Senthil Pandiyan today ordered closure of liquor vends in the district on Independence Day. He said all shops as well as wet canteens should be closed from the night of August 14 up to August 16 till 11 am.
Nishank visits Almora
Nainital, August 4
Continuing with his populist drive, Chief Minister Ramesh Pokhariyal Nishank visited Almora today making announcements and inaugurating various projects. His visit was scheduled as a part of celebrations to mark the centenary year of Soban Singh Jeena.
Panchak yog brings rare occurrence to August
Mussoorie, August 4


Jai Krishan Shah, renowned astrologer from Mussoorie, has some interesting facts about the month of August this year. Shah has been a practising astrology for 27 years and travelled all around the globe like Spain, France, Germany, England, Italy and Belgium, to name a few, for promoting Vedic astrology and giving sermons on the importance of the various traits used by ancient Hindu saints.
Jai Krishan Shah