GMVN president, VP bury the hatchet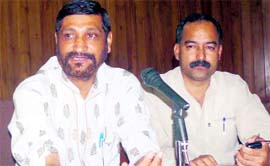 Dehradun, August 9
A joint press conference was convened by president Anil Nautiyal and vice-president (VP) Raghunath Singh Negi of the Garhwal Mandal Vikas Nigam (GMVN) here today to resolve all issues which led to the scuffles between Managing Director (MD) BVRC Purushotam and Negi and reinstate the 81 removed employees on September 1 with an increased interim amount of Rs 2,000 in their salaries from August 15.

Anil Nautiyal, president, (left) and Raghunath Singh Negi, vice-president, of the GMVN address a press conference in Dehradun on Monday. A Tribune photograph
2012 Assembly Poll
Getting state capital status for Gairsain is UKD's agenda
Pitthoragarh, August 9
The Uttarakhand Kranti Dal (UKD) has only one agenda in 2012 Assembly election i.e. making Gairsain a permanent capital of the state.
Govt not cooperating with Centre, says Rawat
Dehradun, August 9
Union Minister of State for Labour and Employment Harish Rawat today accused the Uttarakhand BJP government of failing to cooperate in the Central government policies meant for the welfare of Uttarakhand.
BJP responsible for sorry state of civic affairs: Dhasmana
Dehradun, August 9
Senior Congress leader Suryakant Dhasmana yesterday held the BJP state government and the local BJP legislator responsible for the sorry state of civic affairs in the city.
SDM discusses I-Day plans
Mussoorie, August 9
Sub Divisional Magistrate (SDM) Manoj Kumar discussed preparations for the 64th Independence Day celebrations at a meeting held in his office here today. The meeting was attended by different sections of the society consisting of representatives from the Lions Club, MHA, Nagar Palika, schools, traders' associations and various eminent citizens of the hill town.
Freedom fighters to boycott Independence Day function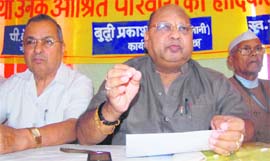 Dehradun, August 9
This time the gallery of freedom fighters at the function of the Independence Day held on August 15 by the state government is going to be vacant as members of the Doon Swatantarta Senanai Samiti today announced that they were no longer going to sit there as mere decorative pieces.

PK Khatri of the Freedom Fighters Association addresses a press conference in Dehradun on Monday. A Tribune photograph
UCOST reviews research in pollution
Dehradun, August 9
The Uttarakhand Council Of Science and Technology (UCOST) on Saturday reviewed its research projects in pollution as part of its annual exercise.
'Hydroelectric project Cos. should quit state'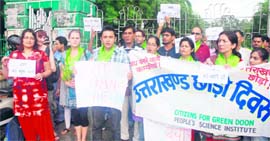 Dehradun, August 9
The Citizens for Green Doon, in association with the People's Science Institute (PSI) and various other environmental groups, observed 'Quit India Day' as 'Quiet Uttarakhand Day' here today.

Members of the Citizens for Green Doon hold a protest in Dehradun on Monday. A Tribune photograph
New Corpn
Irrigation Dept plans strategy
Dehradun, August 9
The recent announcement of the Cabinet to create a corporation, Pariyojana Evam Vikas Nirman Nigam Limited, has infused new energy and enthusiasm in the Irrigation Department which had for long been waiting for it. The biggest roadblock to move forward on two new big hydro projects, 81 MW Arakot Tuni and 72 MW Tuni Plasu, costing Rs 1,000 crore, has now been cleared with this announcement. Now the Irrigation Department can manage funds from national and international banks/financial agencies to build the projects.
Entertainment Dept files 38 cases of tax evasion
Dehradun, August 9
The Entertainment Department here recently filed 38 cases, in the District Court, against those who failed to submit the entertainment tax since April.
Case filed against ZP member's husband
Mussoorie, August 9
In a press conference held here, gram pradhan Pooran Singh Raunchela of Jhinsi gram panchayat, Jaunpur Block, Tehri Garhwal district, alleged that Nagendar Dangwal, husband of zila panchayat (ZP) member Rekha Dangwal, from Jaunpur was making threatening calls to him and his family and the Kempty police was siding with the panchayat member.
Two robbers arrested
Dehradun, August 9
Two persons who had reportedly looted a Rishikesh-based family on gunpoint of gold chain and other house articles on July 18 were nabbed by the police.
Leopard sighted on RIMC campus
Dehradun, August 9
Another leopard has been sighted in the Rashtriya Indian Military College (RIMC) campus in Dehradun.
2 eloped students produced before juvenile court
Dehradun, August 9
Two students of class XII, who had fled four months ago and returned home yesterday, were produced before the juvenile court here today. The court sent the boy to juvenile custody, while the girl was asked to go back home to her parents. Both were students of a Bhaniwala-situated public school. The two had fled in April and the family of the girl had complained to the police that the boy had eloped with their daughter by enticing her.