PUNJAB
HARYANA
JAMMU & KASHMIR
HIMACHAL
REGIONAL BRIEFS
NATION
OPINIONS
LETTERS
BUSINESS
SPORTS
WORLD
Every Wednesday & Saturday
Staff threat to resume stir leaves govt worried
Jammu, September 14
The government employees' threat to revive their suspended agitation has given sleepless nights to the already-worried sate government as the law and order situation has been deteriorating by the day in different parts of the state. Although only a section of the government employees has warned to revive their agitation if promises made by the government in April are not fulfilled, there is apprehension that other organizations of employees would also join the stir.
Turmoil makes life miserable in Valley
Facing shortage of essential items, people pray for peace
Srinagar, September 14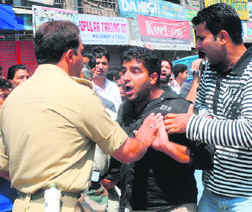 With an indefinite curfew imposed yet again in various parts of the Kashmir Valley following violence in Srinagar after Eid prayers, people in the Valley are facing an acute shortage of essential commodities.
A protester argues with security personnel during a demonstration in the Valley.

Unrest in Valley fuels mental disorders
September 11, 2010
Unrest: Jobs dry up in Valley
September 8, 2010
Pak army, ISI officers visit PoK training camps
September 4, 2010
Winter fear stalks Leh
August 28, 2010
Lashkar down but not out
August 25, 2010
Board for concessions to Valley students
August 21, 2010
Pak desperate to push ultras into Jammu region
August 17, 2010
Pak desperate to push ultras into Jammu region
August 14, 2010
Independence Day is 'black day' in Kashmir
August 11, 2010