M A I N N E W S
A R Rahman
The Last Word

The Rahman Effect
Nonika Singh and N Ravikumar
The man called 'Mozart of Madras' quietly re-worked the anthem
for the Delhi Commonwealth Games before flying off to Los Angeles,
to a world that still resounds to his Jai Ho notes

A lesser man would have reacted immediately. But trust the "Mozart of Madras" Allah Rakha Rahman not to utter a word in defence of his Commonwealth theme song "Swagatham" that earned him flak for being too slow and lyrics being simplistic and juvenile from all and sundry. Instead, first the music maestro went into mode incommunicado, simply unavailable to journalists, taking the grounds that he was fasting in the holy month of Ramzan and post Eid, took off for the next leg of Jai Ho World Tour at Los Angeles. More recently, he has simply gone ahead and pepped up the song without much ado. No words to defend himself, just the notes of his work, re-done.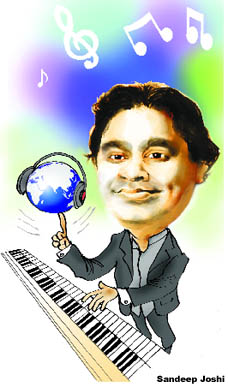 But when has the man nicknamed Isai puyal, a musical storm, whipped up a storm with words? Reticence personified, to borrow a cliché, he lets his music do the talking, and at best allows his endearing smile to work the magic rather than crisp sound bytes. Childhood friend and noted percussionist Sivamani says: "He lives in his world suffused with musical notes alone and refuses to go out with friends also." Ironically curiosity about the singer who shot into national limelight with his ever-hummable number Chhoti Si Aasha is in direct proportion to the distance he maintains from people, prying media in particular.
Yet reams have been written about him, biographies penned laying bare his past, his early unhappy childhood days, the demise of his father when he was barely nine and his conversion to Islam. Still no one really knows what he feels about his wife Saira or his daughters whose birth date he refuses to share.
Indeed, the world knows he reveres his mother Kareema. For did he not admit to the whole world "mere paas maa hai' at the Oscar ceremony itself. But beyond that Rahman the person is constructed by rumours alone that never ever stop circulating. That the devout Muslim who doesn't touch alcohol, creates his music in the night in incense-lit ambience, takes a break for his prayers are coupled with stories as to how he recorded the Indian nightingale, Lata Mangeshkar, while she was rehearsing.
There is yet another rumor that Jai Ho was originally composed for showman Subash Ghai who didn't quite like it, a presumption that is refuted by none other than Gulzar. The noted lyricist who shared the Oscar with him also feels that Rahman has broken the fixed format of mukhda anatara mukhda antara… and with him song runs like a poem.
Sukhwinder Singh who sang Jai Ho agrees that no one can dispute that Rahman is a trend setter. Without doubt, Rahman has broken virtually every rule of making music. For someone who understands technology as well as his music, cut and paste is his natural way of working, often earning him the scorn of purists. He is also accused of giving too much precedence to sound over lyrics. Any wonder often his lyrics are lost in the song.
The CWG song is not the first time that 44-year-old Rahman's music has been rubbished. Earlier too there have been accusations that he creates mediocre music. And one charge that has often stuck, might have hurt too, is one of repetitiveness. His admirers like the lyricist Mehboob who has written many songs for Rahman however feel that his music is like sweet poison and grows on you. Indeed, the knee jerk reaction to Rahman's music including the Oscar winning Jai Ho invariably is - Gosh! What has he created? Yet the Padma Bhushan recipient who has made the line between commercial success and critical acclaim irrelevant ought to be immune to criticism. Yet he is known to be insecure-checks out every word written on him-which many feel is the reason why he is in constant pursuit of perfection.
Come to think of it, he has no reason to bother with what detractors have to say. For laudatory remarks like that of director Steve Plimlott, "Rahman is a melodic genius, and I don't use the word 'genius' very often. In India, people say he's their Mozart, and it's sort of true," overshadow acerbic criticism. And his achievements go far beyond getting India its first Oscar. Sure enough the edgy and energetic score of Slumdog Millionaire fetched him plaudits like never before. Prior to Oscars came Golden Globe and the Los Angeles Film Critics Association for Best Music and Satellite Award given by the International Press Academy.
It's not as if Rahman has forayed into international waters with Slumdog alone. He has earlier scored for the Mandarian language picture Warriors of Heaven and Earth in 2003 after researching and utilising Chinese and Japanese classical music, and co-scored with Craig Armstrong in Shekhar Kapoor's Elizabeth: The Golden Age in 2007. That is not all. Rahman's compositions have been reused in scores both within India and in films abroad, making appearances in Inside Man. and the Accidental husband. He has also worked with Andrew Llyod Webber for the musical stage production Bombay Dreams. Yet each milestone of his met with characteristic humility and an acknowledgment to the Almighty.
Post-Oscar when he picked up two Grammy Awards he exclaimed: "God is great again." Is Rahman touching greatness? With Oscars behind him one is tempted to proclaim so. Sukhwinder feels he is one of the greatest. The maestro himself thinks Oscars have given him a new level of recognition yet at the same time is modest enough to add: "Naushad Ali, Madan Mohan, Roshan and Ilayaraja are great composers. But, they were composing for the audience of a particular region. They did not have the opportunity to perform at the global stage for a global audience." But the world is Rahman's oyster for sure.
With Time magazine placing him in the list of World's 100 most influential people, with score for Hollywood movie Couples Retreat that has made 100 million dollars at Box Office under his belt, being part of remake of the charity anthem "We Are The World" that includes nearly 75 world-class stars, with listeners in the US ready to shell out $ 1,000 for his show, he is all set to win over the West, if it has not been won.
Sukhwinder thinks that he has not only raised the bar too high but already built a bridge between the East and West. How many more will walk on it …. Only time will tell. Rahman by the way abhors comparisons, hates receiving gifts too. A family person to the core, after music, his other passion is computers on which he plays hockey, football and of course makes music on it. Technology might be a dominant influence in his music but as he touches musical notes with it the end result is always a prayer.
So believes Sukhwinder who is otherwise a trifle miffed with the man who gave him his first major break for becoming less approachable and less friendly. "In recent years he has been advised to take the entire credit which could be detrimental to his creative genius", rues Sukhwinder.
Oscar, however, has nothing to do with it. Success washes easily over the maverick composer whose only quest in life is a new sound.