PUNJAB
HARYANA
JAMMU & KASHMIR
HIMACHAL
REGIONAL BRIEFS
NATION
OPINIONS
LETTERS
BUSINESS
SPORTS
WORLD
Thursday, September 16, 2010, Chandigarh, India
Updated at 3:00 am (IST)

AFSPA dilution divides all-party meet
l PDP, NC support revocation as BJP, Sena oppose it
l All-party delegation to visit Valley to assess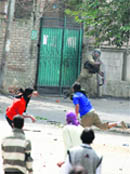 situation
New Delhi, September 15
As violence in Jammu and Kashmir showed no signs of abating, political leaders of all hues today set aside differences and endorsed the UPA Government's move to send an all-party delegation to the troubled state. The delegation would take stock of the ground situation before a final political and economic solution could be worked out.
Protesters throw stones at a cop in Srinagar. — Reuters
1 killed, 20 hurt as clashes continue

Koran fury claims 4 lives in Poonch
Quota Stir
Bank, rly station attacked in Jind
Jind, September 15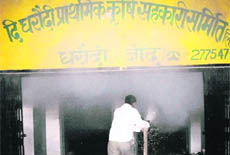 While public property continued to be targeted by arsonists last night, the aftershocks of the Jat agitation continued to be felt in the district today with youths resorting to traffic blockades and protests.
Fire being doused at a mini bank in Darodi village of Jind which was torched by arsonists on Tuesday night. A Tribune photograph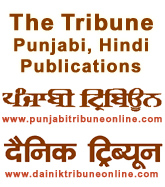 EDUCATION
JOBS & CAREERS
HEALTH & FITNESS
SCIENCE & TECHNOLOGY
REAL ESTATE

SPORTS & WELLNESS
Bonanza for employees
PF interest rate hiked to 9.5%
New Delhi, September 15
Ahead of the festival season, EPFO trustees today raised the interest rate on provident fund deposits to 9.5 per cent from 8.5 per cent, benefiting nearly 4.71 crore employees of both public and private sectors.
HSGPC men clash with cops, block rail traffic
Kurukshetra, September 15
Enraged over the preventive arrest of Haryana Sikh Gurdwara Parbandhak Committee (ad hoc) president Jagdish Singh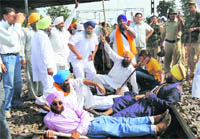 Jhinda and some other prominent leaders, hundreds of HSGPC supporters today blocked rail traffic for four hours and clashed with the police to force their entry into Gurdwara Chhevin Patshahi and laid a siege to the gurdwara.
HSGPC protesters let off steam on a rail track in Kurukshetra on Wednesday. A Tribune photograph
DEBATE:

Appointing Chief Justices
New
UNION BUDGET 2010-11
RAILWAY BUDGET
2010-11

NDA 60 Glorious Years
1857 The First Challenge
E - Revolution 2005:
A Two-day IT conclave
Assembly Elections - 2005
Turbans
Chandigarh is 50
125 Years of The Tribune
India: The Tasks Ahead
India at Sixty
A Tribune Supplement
EARLIER FEATURES
On Sundays
On Saturdays
Five weeks after floods, Leh-Manali road opens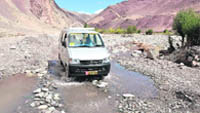 September 15
The Border Roads Organisation (BRO) opened the Leh-Manali highway, damaged in the August 6 flashfloods, to light vehicles yesterday.
A car manoeuvres its way on the Leh-Manali highway near Upshi village, 50 km from Leh, on Wednesday. Tribune photo: Anand Sharma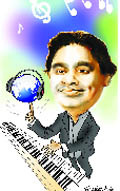 A R Rahman
The Last Word
The Rahman Effect
A lesser man would have reacted immediately. But trust the "Mozart of Madras" Allah Rakha Rahman not to utter a word in defence of his Commonwealth theme song "Swagatham" that earned him flak for being too slow and lyrics being simplistic and juvenile from all and sundry.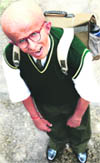 57th National Film Awards
Idiots steal the show with Paa
New Delhi, September 15
Aamir Khan-starrer '3 Idiots' was today adjudged the best popular film providing wholesome entertainment while mega-star Amitabh Bachchan was named the best actor for his performance in 'Paa' in the 57th National Film Awards.
Hooda announces peace deal with protesting Jats
September 15, 2010
Quota rally in Hisar gets violent
September 14, 2010
Srinagar under curfew, Valley reacts violently
September 13, 2010
Rally turns violent on Eid, Kashmir tense
September 12, 2010
Wannabe doctors, try IITs
September 11, 2010
Cabinet nod to caste count in census
September 10, 2010
Omar tries to pitch for Eid package with PM
September 9, 2010
Extended monsoon in North may cloud CWG
September 8, 2010
PM tells SC not to get into policy formulation
September 7, 2010
Bihar still awaits hostages' release
September 6, 2010