Price rise
Farmer unions stage protest
Ferozepur, September 15
To lodge a strong protest against price rise, inflation and withdrawal of 100 units of free power, more than 17 farmers' organisations held a rally in front of the office of the Deputy Commissioner. They sat on the road and blocked traffic for a few hours.
Dharna staged by farmers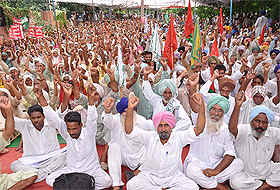 Bathinda, September 15
In accordance with the call by the 17 organisations to lodge protest in favour of their demands and the alleged anti-farmer policies of the state and union government, hundreds of farmers and farm labourers staged dharna outside the Mini-secretariat, here today.
Activists of farmers and farm workers' unions attend a protest rally outside the mini-secretariat in Bathinda on Wednesday. A Tribune photograph

Four killed in separate road accidents
Faridkot, September 15
Three youths were killed in a road mishap when the car by which they were travelling rammed into a truck on the Faridkot-Talwandi road at village Chandbaja near Faridkot, late last night.
Engineers' Day celebrated
Bathinda, September 15
The ISTE students chapter, Ferozepur College of Engineering & Technology, Ferozshah, celebrated Engineers' Day on Wednesday in the memory of Mokshagundam Visvesvarayya.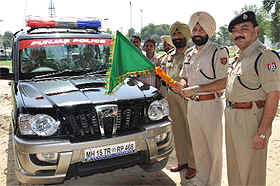 New machines to put Bathinda cops in fast lane
Bathinda, September 15
Aiming at wider mobility thereby reducing the police response time in case of any eventuality, the Bathinda police today was equipped with 25 brand new multifunctional four-wheelers, which included 18 Scorpio Getaway vehicles for police stations and seven Tavera vehicles for the PCR staff.
SSP Sukhchain Singh Gill flags off the new multifunctional Scorpio Getaway vehicles in Bathinda on Wednesday. Photo by writer

Normal route of trains restored
Bathinda, September 15
As normalcy started returning in violence-hit Hisar and other parts of Haryana on Wednesday, movement of trains which remained affected on Tuesday following the turmoil was restored on the specified routes today.
Concern over honour killings
Sant Nirankari Mission to promote intercaste marriages
Abohar, September 15
Concerned over the high incidence of honour killings in the northern region, the Sant Nirankari Mission plans to promote inter-caste marriages, said Gobind Singh, chief of the Planning Advisory Board of the sect.
Heritage festival
Group dance attracts huge gathering
Abohar, September 15
The participants from more than 12 colleges of Muktsar zone enthralled the gathering as the 'PU Zonal Youth and Heritage Festival' entered its third day.
Women snatchers on the prowl
Bathinda, September 15
Beware! Now, women chain-snatcher gangs have become active in Bathinda. Interestingly, the women snatchers are more dynamic as they use cars. Deriving ideas from films, they generally target women waiting for conveyance. Once a woman takes lift in their car, they take her to some aloof place and snatch her ornaments.