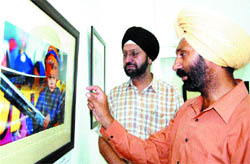 Major Amarjeet Singh Batth (retd) explains his photographs to a visitor at the Art Gallery in Amritsar. A Tribune photo
Tete-e-Tete
'Young getting hooked to basic sciences again'
Amritsar, September 21
After months of uncertainty, the DAV College Managing Committee shifted the Principal of JC DAV College, Dasuya (Hoshiarpur), Kailash Nath Kaul, to DAV College, Amritsar. A PhD in chemistry, Kaul has about 33-year experience, including five years of heading the college. The seat here had fallen vacant after his predecessor Satish Kumar Sharma was transferred.
City-based Paramjeet, Vinod emerge 'Voice of Punjab'
Amritsar, September 21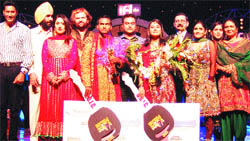 It was a dual occasion for the city to rejoice. The top slots of 'Voice of Punjab' male and female categories were bagged by Amritsar-based Paramjeet Kaur and Vinod Kumar.




The winners of the 'Voice of Punjab' contest along with the judges after the grand finale at Khalsa College in Amritsar. A Tribune photo
5 dozen fish found dead in Golden Temple sarovar
Amritsar, September 21
More than five dozen fish were found dead in the sarovar of Golden Temple today.
Birth, death certification goes hi-tech
Amritsar, September 21
Now, the people of rural areas would not have to stand in long queues for hours and wait for months for registration and issuance of birth and death certificates.
HIV test centre to be set up at TB hospital
Amritsar, September 21
The Punjab AIDS Control Society has agreed to set up an Integrated Counseling and Test Centre (ICTC) at the local TB hospital here, in order to identify HIV positive patients.
GMC spreads awareness on dementia
Amritsar, September 21
The Department of Neurology in the Government Medical College today celebrated World Alzheimer's Day by organising health checkup and awareness camp to make people aware about dementia and Alzheimer's disease.

'Govt not doing enough to promote homoeopathy'
Amritsar, September 21
Although the homoeopathy system of medication and treatment is growing at a brisk pace all over the world, the governments are not doing enough to promote it or other systems of medication and treatment.
Dr Ushma Batra
Lecture on Guru Nanak and early Sikhs
Amritsar, September 21
Prof Gurinder Singh Mann, an eminent scholar of the Sikh studies, from the University of California (US), delivered a thought provoking lecture on "Guru Nanak and Early Sikhs: New Perspectives".
21 Youth Cong leaders get bail
Amritsar, September 21
Ravneet Singh Bittu, President, Punjab Youth Congress and MP, yesterday visited the Central Jail, Gumtala, Amritsar, to meet his 21 detained colleagues, who later were bailed out.
PSMDTA elections
Amritsar, September 21
Dr RS Sidhu was unanimously elected as president of the Punjab State Medical and Dental Teachers Association, the elections for which were held here today. Dr HS Sohal and Dr SS Sood were nominated as vice-presidents while Dr Shiv Charan was elected as general secretary of the association.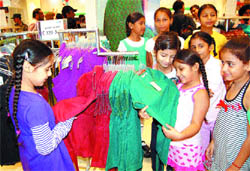 Max launches store in city
Amritsar, September 21
Max has launched its first store in the city. The new Max store would provide latest fashion of apparels, footwear and accessories for men, women and kids.





Children look at garments in the newly opened Max store in Amritsar. Photo: Vishal Kumar
Blood donation
Amritsar, September 21
As many as 45 persons, including staff and students, of Baba Kuma Singh Engineering College, today donated blood at the Janta Hospital, in association with the blood bank of the Guru Nanak Dev Hospital. The blood donation camp was organised in the memory of late Dr Parminder Singh Pannu, whose death anniversary falls today.
Two abducted, five booked
Tarn Taran, September 21
Two case of abduction were reported in the area.
No govt aid for golden karate kid
Amritsar, September 21

Spain recognised her talent after watching her perform during the All India talent hunt tourney held at New Delhi, last month. But she hardly finds any recognition here, apparently, not even in the much touted "sports policy". Nevertheless, Amritsar-based 12-year-old Shivani has received invitation from the International Sport Karate and Kickboxing Association to compete in the world championship in Alecante, Spain.

Though Shivani is busy in preparations to give her best at the meet, her father Swaran Singh, a class IV employee with the Punjab State Power Corporation, is worried about arranging the expenses of his daughter's trip. Shivani's boarding, lodging and travel expenses would come to be approximately Rs 1.5 lakh.