Pharmacists' stir ends, 3 demands accepted
Dehradun, October 9
Uttarakhand pharmacists' stir concluded today with the state administration assuring to issue a government notification linked to their demands latest by November 30.
CM mourns death of freedom fighter
Dehradun, October 9
Chief Minister Ramesh Pokhriyal Nishank has conveyed his grief over the passing away of freedom fighter Bhudev Shastri.

Speculations over Cong leaders' visits
Haridwar, October 9
Just two days after parliamentarian from Tehri Garhwal Vijay Bahuguna made a whirlwind tour of flood-affected areas in Haridwar and blamed the state BJP government for its failure in providing interim relief to affected people, yesterday it was the turn of another Congress bigwig, Yashpal Arya, who also cast doubts on the state government's ability to provide compensation to rain victims. Yashpal Arya

Khanduri lays stone of 'math'
Roorkee, October 9
"India has always been known for its strong religious beliefs," said former Chief Minister of Uttarakhand Major-Gen BC Khanduri (retd) at the foundation stone-laying ceremony of a 'math' near BSM Inter College, Nehru Nagar.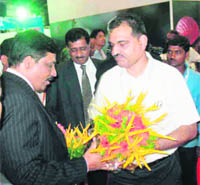 UCOST stall attracts visitors
Dehradun, October 9
The stall of the Uttarakhand State Council for Science and Technology (UCOST), Dehradun, at India Manufacturing Show (IMS)-2010 is getting encouraging response.




Dr Rajendra Dobhal, Director, UCOST (right), greets Karnataka minister Murugesh R Nirani at India Manufacturing Show (IMS)-2010 in Bangalore.

Book by JC Pant released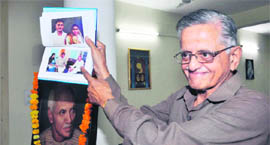 Dehradun, October 9
Former Uttarakhand Governor Sudarshan Agarwal today released "Pandit Sriram Sharma Acharya As I Knew Him, Memoirs of a Civil Servant", authored by JC Pant. At a release function held at Himjyoti School, Dehradun, Agarwal said the contribution of Pandit Acharya for the spiritual awakening of the society had been immense.

Former Governor Sudarshan Agarwal releases a book in Dehradun on Saturday. A Tribune photograph


National Postal Week kicks off
Dehradun, October 9
To celebrate the founder day of the postal community across the globe, which was founded in 1874, World Post Day is being organised all over the globe. It is celebrated as part of the National Postal Week from October 9 to 15.
Dilip Singh Rana, Senior Post Master

Leopard kills girl; bull gores cyclist
Nainital, October 9
Two persons were killed in separate instances of man-animal conflict in the Kumaon region. In the first instance, a leopard carried away a nine-year-old girl right before the eyes of her mother in the Sheetlakhet area, near Ranikhet.
Constable thrashed by two locals
Mussoorie, October 9
An Intelligence constable working with the local Intelligence unit was thrashed by two local residents in a small dispute over the parking of a motorcycle in Mussoorie today. The Intelligence official suffered severe damage to his face and was rushed to the hospital. According to victim P Verma, he was returning to the office when his motorcycle got stuck in a traffic jam. When he requested the two persons who had parked their vehicle to shift it from the place, they began abusing him and started threatening him with dire consequences.
Formation commanders' meeting held
Dehradun, October 9
Formation Commanders of the Uttar Bharat Area congregated to participate in the conference at the State Government Guest House conference hall in Nainital from October 6 to 8. Lt Gen SP Tanwar, General Officer Commanding, Uttar Bharat Area, inaugurated the conference followed by his welcome speech.
South Road residents hold protest
Mussoorie, October 9
Residents of the South Road area held a dharna near the demolished Clock Tower to register their protest against the Nagar Palika, alleging that the Palika, instead of repairing the road, was filling the potholes with mud which was creating health hazards to the residents.
Unisex salon opened
Dehradun, October 9
Mahanagar Congress Committee president Harish Virmani today inaugurated Good Looks, a unisex salon, at Ballupur here today.