Clock Tower: Activists term demolition as 'murder'
Mussoorie, October 14
The Clock Tower demolition issue is back in the news as several social workers and organisations, terming the demolition as murder of a historic building of the British era, gathered at the police station to register a First Information Report (FIR) against Nagar Palika President OP Uniyal and others.
Kaushik clarifies on aid for damaged houses
Nainital, October 14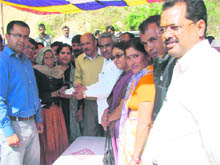 Cabinet Minister Madan Kaushik has promised the disaster-hit people of Okhalkanda, Betalghat and Dhari blocks of the district that the houses which have been rendered non-livable by the recent rain-related incidents will be treated as totally damaged and compensation will be paid accordingly.


Cabinet Minister Madan Kaushik presents cheques to victims of disaster in Nainital on Thursday.

Memorable World Eyesight Day for Laxmi
Dehradun, October 14
It took 48 years for Laxmi to emerge from darkness to light after a miraculous eye surgery restored her vision back on World Eyesight Day. Calling it a medical marvel, the doctors who performed the surgery could not hold back their excitement.
Autumn Fest: Dept told to take action against guilty
Mussoorie, October 14
Finally the state government has woken up to the fact that large-scale irregularities and financial embezzlement was committed during the tender procedure of Autumn Festival 2009 in Mussoorie.
Bring transparency in work, officials told
Dehradun, October 14
While assessing the centrally sponsored schemes and 20-point programme, District Magistrate (DM) Sachin Kurve asked all officials in the district to bring quality as well as transparency in their work. He expected all works to be completed by November.
UKD for better communication in disaster-hit areas
Pitthoragarh, October 14
Senior Uttarakhand Kranti Dal (UKD) leader and Hilton Chairman Kanshi Singh Airi today urged the state government to get ready for the disaster mitigation and prepare itself before the rains. "To achieve this purpose, the government should give a permanent shape to the disaster mitigation setup of the state," said Airy.

Max India health camp ends
Dehradun, October 14
The two-day health camp organised by the Max India Foundation and Raphael Ryder Cheshire International Centre concluded here today. October 2010 is being celebrated as Max India Foundation - Raphael Partnership Month.


Mohini Daljeet Singh
HIV patients not accessing ART
Dehradun, October 14
A total of 12,000 HIV/AIDS patients who reported at the Integrated Counselling and Training Centres (ICTCs) in the state failed to access the Anti-Retroviral Treatment (ART) putting a huge question mark on the AIDS control programme underway in the state.
Staff crunch at Deen Dayal Upadhyay Hospital
Dehradun, October 14
Pandit Deen Dayal Upadhyay Hospital is facing a serious staff crunch and the government's efforts to fill vacant posts are proving futile.
World Standards Day observed
Dehradun, October 14
The Bureau of India Standards (BIS) today observed the World Standards Day 2010. The theme of the day was "Standards Make the World Accessible for All".
People asked to contribute in TB eradication
Dehradun, October 14
A partnership between the civil society and the government on the lines of pulse polio porgramme was sought for the complete eradication of tuberculosis (TB) in the state.
Dandiya night to create AIDS awareness
Dehradun, October 14
SV Pulse Production, in association with Harry Events, will be organising a Pink City Dandiya night - AIDS awareness, A Mission with Vision, at the ONGC Officers Club here on October 16. Deep Vohra, Director, Pulse Production, stated this here on Tuesday.
School uniforms given to poor students
Mussoorie, October 14
Ganesh Joshi, Rajpur MLA, distributed school uniforms among below poverty line students today. He was accompanied by his wife and local BJP members.Joshi said, "The Deen Dayal Upadhyay Vichar Manch has resolved to address the problems faced by common people.