Villagers object to shifting of Army post
Jammu, October 15
In sharp contrast to the demand for demilitarisation in the militancy-plagued state, residents of Bachianwali village in Surankote tehsil of Poonch district have approached the local Army authorities with a request against the shifting of an Army camp from their village.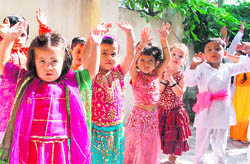 GODDESSES OF THE DAY: Children celebrate the Navratra festival at Nobel Heart School in Jammu on Friday. A Tribune photo
Governor, Omar for academic audit in farm varsities
Srinagar, October 15
Governor NN Vohra and Chief Minister Omar Abdullah have stressed the need for undertaking an academic audit and setting highest standards for teaching and research in the agricultural universities of the state to establish themselves as centres of excellence and ensure effective utilisation of available capacities. The Governor stressed the need to reorient traditional approaches to timely and effectively meeting the serious problems relating to the fast impacting phenomenon of global warming and climate change.
Governor greets people on Dasehra, Navami
Srinagar, October 15
Governor NN Vohra has greeted people on Dasehra and Navami. In his message,the Governor said the festivals symbolised the universal triumph of virtue and righteousness over evil and darkness.He observed the festivals were a glorious heritage of our pluralistic traditions, which further strengthened the spirit of communal harmony, brotherhood and amity. He prayed for peace, progress and prosperity in the state.
Chemat wins clay-modelling competition
Jammu, October 15
Chemat Dorjey, a student of the Institute of Music and Fine Arts (IMFA), clinched the first prize in an Inter-collegiate Departmental Clay Modelling Competition.
Non-release of Scholarship
Jammu, October 15
The Progressive Students Association (PSA) and the All-Ladakh Students Union, Jammu, held a protest yesterday against the non-release of scholarship to students of the SC/ST category of Government Maulana Azad Memorial (MAM) College.
Youth hurt in grenade blast
Jammu, October 15
A youth yesterday sustained injuries when a grenade, which he was fiddling with, exploded in Saruti village in Mendhar tehsil of Poonch district. Official sources said, Sadaqat Hussain, son of Mohammed Sadiq, found the grenade while leaving his house to graze the cattle.
Jammu landscapes ideal for shooting: David Dhawan
Jammu, October 15
The director of many successful comedy films of Bollywood, David Dhawan, said today that landscapes in Jammu were cinematically so beautiful that a complete film could be shot here alone.
Jammu to be painted in Rajasthani colours
Jammu, October 15
The Department of Tourism, Government of Rajasthan, is organising a two-day 'Mini Rajasthan Festival' in the city on October 20 and 21 for the first time.
SC/ST students defer strike till Monday
Jammu, October 15
The SC/ST students of Maulana Azad Memorial (MAM) College today announced to defer the ongoing strike till October 18. The students were observing the strike demanding the release of their scholarship amount.
Need to build pool of skilled youth: Omar
Srinagar, October 15
Chief Minister Omar Abdullah has underlined the importance of creating a pool of skilled youth through a sustained capacity building process to open new avenues of employment for them.
Man murdered in Rajouri
Jammu, October 15
A man was murdered over a trivial issue in Bhatian village of Thannamandi tehsil of Rajouri district today. Confirming the incident, SSP, Rajouri district, RK Jalla, said Sanawar Mirza and his two sons attacked Mohammed Sadiq with a stone and a stick resulting into his death. A case has been registered against the accused, who are absconding.
Dredging on to restore glory of Dal Lake
Srinagar, October 15
A dredging project was carried out in the Dal Lake as part of the state government's efforts to restore its pristine glory, a spokesman said here today.
Ladakh hill council poll today
Leh, October 15
The fate of 57 candidates contesting for the 24 seats of the general council of the Ladakh Autonomous Hill Development Council (LAHDC) in Leh district would be decided by 73,169 voters, including 36,929 women, tomorrow. The counting of votes would be held on October 21.