Hoardings stealing power; Powercom in dark
P.K. Jaiswar
Tribune News Service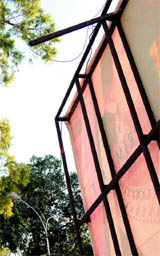 A hoarding uses a kundi connection to draw power at Lawrence Road Chowk in Amritsar. Photo: Vishal Kumar
Amritsar, October 26
Even as the Punjab State Power Corporation (Powercom) claims to have contemplated a number of steps to check power loss, the huge illuminated hoardings without valid power connections are belying their claims.
These billboards are eating away major chunk of power by way of kundi connections causing a huge loss to already dwindling financial fortunes of Powercom and the Municipal Corporation.
The authorities have turned a blind eye towards the menace as a majority of these advertising unipoles belong to political bigwigs and private advertising agencies who do not give two hoots to any norms or guidelines.
As per the norms, every unipole or advertising hoarding fitted with hoarding lights must be fitted with electricity meters so that they can be charged whatever power they consume.
Illuminated huge billboards at the Nehru Shopping Complex building on the Lawrence Road chowk are some examples as some of these billboards don't have any proper power connection. Unipoles near the GT Road from Putlighar Chowk to Guru Nanak Dev University are being illuminated with hoarding lights by way of kundis on streetlights wires.
Streetlights are maintained by the Municipal Corporation, which has failed to check the problem. There are more than 150 unipoles at various transactions of the city, it is learnt. There is need to check whether they have valid power connection, said a resident.
"Powercom or the Municipal Corporation should launch a drive to check this menace as ultimately it will be the common man who would bear the burden by way of taxes levied by the MC or Powercom, while owners of these billboards would continue to mint money," said Suresh Kumar, a resident of the Basant Avenue area.
The city is dotted with hoardings, which have become an eyesore. Many more billboards are coming up, especially in the areas and buildings developed by the Amritsar Improvement Trust, converting the holy city to hoarding city.
Official Speak
D.P.S. Kharbanda, Commissioner, MC, said he would ask the streetlight wing to raid the spots and challan or file power theft cases if the owners of the unipoles or advertising hoardings were found to be at fault and forward these cases to Powercom.
S.S. Sandhu, Chief Engineer, Border Zone, Powercom, when contacted, expressed his ignorance, adding that he would direct the flying squad or enforcement wing teams to check if there was any power theft by any means.