Varsity to go in for credit-based evaluation
Amritsar, October 12
Sparing a thought to ensure continuity in teaching, the Guru Nanak Dev University has decided to make the Credit Based Evaluation System mandatory from the next academic session 2011-12 in all streams.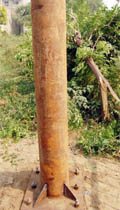 Tree chopped to install unipole in green belt
Amritsar, October 12
Even as a number of green campaigns have been initiated in the holy city in the past couple of years, there is a lack of clarity as far as administrative decisions were concerned. Take for example, insensitivity of officials and advertisement contractors took a toll on a tree, which was chopped to pave way for installing a unipole for advertisement purpose in the green belt on the old Jail Road.




The unipole, which was installed after uprooting a tree, in a green belt opposite Red Cross Bhawan in Amritsar. Photo: Vishal Kumar

City's date with top designers
Amritsar, October 12
The city saw a fresh assortment of leading designers during the Design Weekend '10 organised at Ranjit's SVAASA, Heritage Boutique Spa Haveli, in Amritsar.
Housing scheme beyond the reach of common man
Amritsar, October 12
The Amritsar Improvement Trust's 97-acre Ranjit Avenue scheme, dubbed by its political masters as a golden opportunity for common man to own dream houses, seems to be an eyewash as there are insufficient number of small sizes of plots.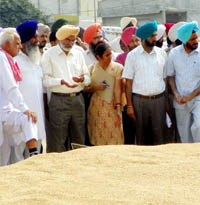 Despite floods, Punjab has high paddy hopes
Amritsar, October 12
Despite adverse weather conditions, Punjab is expecting over 142 lakh metric tonnes of paddy in grain markets of the state. Darbara Singh Guru, Principal Secretary to Chief Minister, who was here to monitor the paddy procurement arrangements in grain markets of Amritsar, Jandiala, Bhagtanwala and Tarn Taran said in spite of floods, there will be shortage in the food basket.

D.S. Guru, Principal Secretary to Chief Minister, at a grain market in Amritsar on Tuesday. A Tribune photograph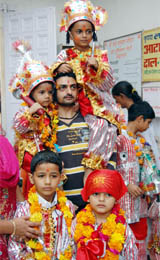 First timer: Girl becomes langoor in mela
Amritsar, October 12
Five-year-old Shreya wore a bright red outfit with silver trimmings, conical caps and held a staff, becoming the first-ever girl langoor. Shreya, thus, broke the age-old practice of the internationally acclaimed Langoor Mela in which only boys play langoors every year. Thousands of boys dressed as "langoors" of Lord Hanuman's vanar sena, assembled at the ancient Bara Hanuman Temple during the nine-day-long Navratras.






Photo: Vishal Kumar

Radiotherapy centre to start by mid-December
Amritsar, October 12
The state-of-the-art radiotherapy centre being set up at Guru Nanak Dev Hospital is likely to start its operations from mid of December this year.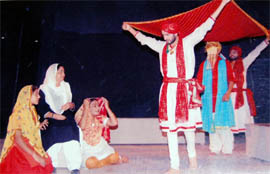 Playing up his love for mother tongue
Amritsar, October 12
Kewal Dhaliwal expressed his love for his mother tongue through a play 'Diwa Baal Punjabi Da'. Staged at Naat Place, Dhaliwal, writer and director of the play, hit out at those relegating Punjabi, who show themselves as sophisticated, as being sham and pretence.

Play 'Diva Bal Punjabi Da' in progress at Punjab Naat Place in Amritsar. A Tribune photograph

Youth fest at GND varsity
Amritsar, October 12
More than 1,000 students hailing from 16 affiliated colleges of Guru Nanak Dev University participated in various events, including dance, music, literary and fine arts, during the inaugural day of the "A" Zone - Zonal Youth Festival at Dashmesh Auditorium of the university.
City students shine in abacus competition
Amritsar, October 12
All top three positions in above nine-years category have been pocketed by city students during the first Regional Abacus and Brain Gym competition "SIP Prodigy Punjab-2010", held at Sri Guru Harkrishan Senior Secondary Public School, GT Road, here.
One shot at in land dispute
Tarn Taran, October 12
Ram Singh of Nagoke village, 28 km from here, was short at and injured in a land dispute last evening. A case under sections 307, 452, 148 and 149, IPC, and sections 25, 54 and 59, Arms Act, was registered by the Verowal police against five persons who included three of the same village.
Impersonator booked
Amritsar, October 12
Civil Lines police has booked Mandip Singh of New Gopal Nagar, Khandwala area, for allegedly impersonating as an Air Force officer to defraud people in the name of recruitment in the force. According to information, the accused used to charge Rs 60,000 for a job which was never to be. The victims alleged that they had been duped of lakhs of rupees and were neither got recruited nor given back their money. He used to operate from an office at Husainpura Chowk.