Film city plan may finally materialise
Pratibha Chauhan
Tribune News Service
Shimla, October 30
The plans of the Tourism Department to set up a film city in the state may finally materialise with some prominent film and television producers evincing keen interest in setting up a film city, which would facilitate shooting of Bollywood flicks at picturesque locations in Himachal.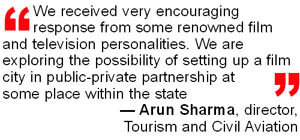 It was at the investors meet organised by the department at New Delhi recently that some people associated with the film and television world expressed their desire to set up a film city in Himachal. Though the government has been very keen to set up a film city, but the plans have failed to take off so far.
"We received very encouraging response from some renowned film and television personalities and we are exploring the possibility of setting up a film city in public-private partnership at some place within the state," said director, Tourism and Civil Aviation, Arun Sharma.
One of the participants at the meet, Sandeep Marwah, director of Asian Academy of Film and Television and the Asian School of Media Studies, interacted with senior tourism functionaries and offered to set up a film city in Himachal. He is the founder of film city in Noida and has also been associated with the production of more than 2,500 television programmes and 70 feature films.
He has been associated with the production of 1,500 short films, which is highest in the world. He is the president of International Film and Television Club, chairperson of International Film and Television Research Centre and the honorary cultural ambassador of Wales in India.
With a huge chunk of land required for meeting the requirement of a film city, the government has so far zeroed down on Saketi in Sirmour, Baragaon, near Manali, and Jhatingiri in Mandi. "If more investors are interested, we can think of having more than one film city also," said Sharma. The department has already set the ball rolling and various procedures and formalities that need to be fulfilled are being completed.
During the meet, the producers admitted that Himachal had everything that was ideal for shooting films, but lack of infrastructure compels them to travel abroad where everything is taken care of with no hassles at all. They pointed out that if the shooting equipment like lights and big cameras were available they would love to shoot in Himachal.
Despite Sanjay Leela Bhansali shooting his widely acclaimed film "Black" in Shimla, not, too, many producers take the trouble of holding their shoots in Himachal. Places like Kullu-Manali, Chamba, Dalhousie and Shimla have ideal locales for film shooting.