Agarwal gets better of Sheila, for once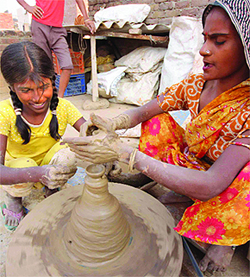 HANDS-ON EXPERIENCE: A girl helps her mother make earthen lamps for Divali in New Delhi. Tribune photo: Manas Ranjan Bhui

The renomination of Delhi Pradesh Congress Committee president Jai Prakash Agarwal has become an issue of fervent discussion among not only the Congress leaders but also some enthusiastic opposition politicians. They were of the view that Chief Minister Sheila Dikshit would pull out all the stops to prevent Agarwal's appointment and could prop up some candidate at the last minute. That there is no love lost between Dikshit and Agarwal is no secret. She had been trying her best to get a state party president of her choice as the Agarwal-led set up had not backed her the way she would have wanted.
Sources say allegations of financial bungling in the Commonwealth Games and Agarwal's tactical attacks at Dikshit helped him secure renomination.
His aides say that he could have launched a public attack on Dikshit and demanded full-scale probe if he had been removed. Another term for him gels with the party policy to keep all the factions happy and, at the same time guessing.
Law's too merciful for some
A Blueline bus driver recently crushed a 22-year-old youth, firming up the government decision to phase out the private buses. The decision might be welcomed by some but it was no relief for the kin of the victim. Even if the driver is convicted, he would not get more than 2 years of jail term. To the utter shock of his grieving family members, lawyers told them their tormentor would get immediate bail while they would have to do round of courts for years before a verdict is pronounced.
"The law should be changed. It is like rubbing salts on the wounds of his parents. Is that justice for their son?," Manoj, one of his friends, wondered, as the police went about the formalities.
Gandhi's spirit behind artist's work
Meeting Mahatma Gandhi in 1947 remains a fond memory for Suraj Sadan, a teacher and an artist of note. Sadan is rather happy these days as the Nelson Mandela Centre for Peace and Conflict Resolution at Jamia Millia Islamia will be organising an art exhibition titled, 'Artisans of Non-Violence', which has been put together by Sadan, in the M.F. Husain Art Gallery.
The exhibition will display 24 framed drawings of Gandhi, Nelson Mandela and Martin Luther King. The varsity's VC Najeeb Jung will inaugurate it on November 1 and it will be open to public till November 10. Sadan has done several solo and group exhibitions in India as well as other parts of the world.
He says he endeavours to let his work reflect his creative and humanistic touch, forever guided by the spirit of Mahatma Gandhi whom he had met in a post-Partition refugee centre at Kingsway Camp in Delhi.
Walia angry with cops
The alleged police laxity in letting manufacturers of spurious milk products escape a raid by health authorities a couple of days back had health minister Kiran Walia furious.
She scolded senior police officials in old Delhi in full public view and all the cops could do was to offer some lame excuses.
Urbane and polished, Walia has expressed her frustration and anger at the crude ways of the police quite a few times of late. She had publicly condemned cops for their insensitive handling of a sensational case in which a taxi driver had molested a boy and his sister for months before being found out and arrested.
She says the police should undergo training and orientation programme to empathise with the public causes.
Some police officials, though, believe that Walia's criticism is a bit over the top and she should spend some time in police stations to realise how stretched they are at work.
(Contributed by Syed Ali Ahmed, Rashi Agarwal, Charu Singh and Kumar Rakesh)