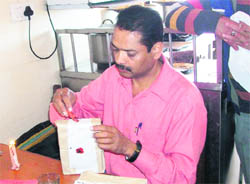 Health team raids shops in Mussoorie
Mussoorie, November 1
The department, on the directions of the District Magistrate and the Chief Medical Officer, raided a few sweet shops in here today. A team of health officials, headed by Chief Food Inspector GC Kandwal and comprising Food Inspector Ramesh Singh and Supervisor Sunder Lal, raided sweet shops at Kulri Bazar and the Library area.

A health official seals a sample of sweets in Mussoorie on Monday. A Tribune photograph

Shortage of Cylinders
Magistrate finds fault with gas agency dealer
Dehradun, November 1
The state has been facing a shortage of gas cylinders for a while. Dealers also confirm that shortage has increased due to lack of proper supply from the Indian Oil Company (IOC). But records with merchants showed that the scenario was totally different. It proved that the supply was reaching them on time, but cylinders were being supplied somewhere else instead of to customers.
Doon Hospital to have full-fledged Neurosurgery Dept
Dehradun, November 1
As part of an expansion spree, the Doon Hospital will soon have a full-fledged Neurosurgery Department backed by a neurophysician and the Neo-natal Intensive Care Unit (NICU) at the District Women's Hospital, too, will be expanded in the coming days.
Cong, BJP supporters clash over Ramlila panel control
Nainital, November 1
The locality of Bhadaipura in Udham Singh Nagar witnessed a violent clash between supporters of the Congress and the BJP today morning. The matter pertained to a controversy over the management rights of a Ramlila Committee that has been staging Ramlila in the locality over the past 20 years.
Jal Vidhyut Nigam generates record power
Dehradun, November 1
Uttarakhand Jal Vidhyut Nigam Limited (UJVNL) has recorded maximum power generation during October and it is the highest ever power generation in a month.
'25,000 youth have pledged to protect Indian interest in J&K'
Pitthoragarh, November 1
More than 25,000 youth have pledged to protect the Indian interests in Jammu and Kashmir during the movement started by the Bharatiya Janata Yuva Morcha (BJYM) in the state since October 26.
Ahmediya Muslims condemn ban on book stall
Dehradun, November 1
Ahmediya Muslims have condemned the move by the Dehradun district administration to ban their book stall at the recently concluded Uttarakhand Mahotsav following objection by Muslim religious and social leaders of the city.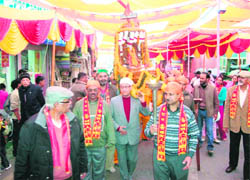 Palanquin of Sai Baba taken out in procession
Mussoorie, November 1
Devotees gathered at the Sai Temple in Kulri Bazar, Mussoorie, yesterday to celebrate the third Sai bhajan sandhya and bhandara with fervour and gaiety. The temple wore a festive look as devotees sought blessings from the great seer of his times.

Palika chief OP Uniyal shoulders a palanquin of Sai Baba in Mussoorie on Sunday.

Anti-encroachment drive continues
Dehradun, November 1
A day after stopping its anti-encroachment in Paltan Bazar, cops, along with Municipal Corporation (MC) officials, restarted the drive.
Reports belie Power Dept claims
Nainital, November 1
Even as officials concerned conveyed to Chief Minister Ramesh Pokhriyal Nishank yesterday that all was well on the power front, the picture on ground is something different with complaints of power cuts being reported daily.
Charred body of youth found near ARIES
Nainital, November 1
The body of an unidentified youth was found near the gateway to the famous Aryabhatta Research Institute of Observational Sciences (ARIES) here last night.
Vigilance awareness camp ends at NIH, Roorkee
Dehradun , November 1
In compliance with the directives of the Ministry of Water Resources (Government of India) and the Central Vigilance Commission, New Delhi, a weeklong vigilance awareness camp concluded at the National Institute of Hydrology (NIH) at Roorkee.
Ranbir encounter case: Trials from Dec 1
Dehradun, November 1
Trials of the four accomplices of Ranbir, who was killed in an alleged fake police encounter lat year, will start from December 1 in the Sessions Court for allegedly beating and snatching the weapon of a policeman.
Yoga trained teachers stage protest
Dehradun, November 1
Agitated over the government attitude for not providing jobs to degree/diploma holders of yoga, more than 100 members of the Yoga Training Society today marched to the Secretariat from the Gandhi Park to meet the Uttarakhand Chief Minister. They also submitted a memorandum to him.
Principal booked for embezzlement
Pitthoragarh, November 1
The Principal of Post Graduate College, Berinag, in Pitthoragarh district has been booked for embezzlement of money meant for scholarship of SC/ST students.
Gurdwara sabha sends blankets, clothes to rain-hit areas
Dehradun, November 1
Members of the Gurdwara Sri Guru Singh Sabha today flagged off two trucks full of blankets and clothes for rain-affected areas of Uttarakashi district.