Admn asks Indian traders to return by today
Pitthoragarh, October 30
The district administration has asked Indian traders, who had gone to Tibet to trade with their counterparts there under Indo-Tibet border trade arrangements, to return to India before October 31 as it will be difficult to extend the trade period beyond this date as the Himalayan passes situated at high altitude were witnessing unexpected snowfall this year and becoming difficult to cross.
Lipstick episode mars Thomso fest
Dehradun, October 30
The IIT campus at Roorkee wore a dull look as the controversial "lipstick" episode saw participants thinning out on the final day of Thomso 2010, the cultural festival.The much-hyped cultural fest has left organisers ducking down as the episode spiralled into a controversy with local TV channels airing bytes of the incident prompting widespread condemnation from various political parties, social activists and groups.
Kasiga students win green energy title
Dehradun, October 30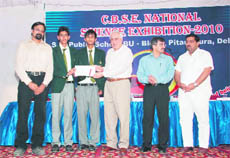 Kasiga School won first position in the "Green Energy" category at the CBSE national science exhibition 'Innovations, 2010", on October 25 in New Delhi.Devansh Malik and Akash Goel, students of Class X, presented their model, titled 'Residential Pico Wind Turbine', which was a fully functioning prototype designed to harness wasted wind from domestic ceiling fans to power or charge small electronic devices such as cell phones, MP3 players, clocks, radio receivers etc.

Union Human Resource Development Minister Kapil Sibal presents an award to students of Kasiga School in New Delhi.

Aryan School puts up art, craft exhibition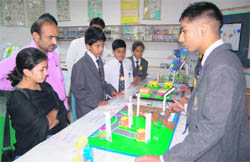 Dehradun, October 30
Students of Aryan School put up an art and craft exhibition on their 10th Founder's Day here today.Students displayed their skills through their projects and models at the exhibition with gusto and fervour.The day began with a parent-teacher-meeting in the morning.

An exhibition put up by students of Aryan School in Dehradun on Saturday. A Tribune photograph

Indo-German cultural society extravaganza concludes
Dehradun, October 30
A three-day extravaganza of competitions organised by the Indo-German Cultural Society in association with Vivekanand School culminated here today. As many as 72 students from different schools participated in the inter-school group song and dance competition.
Shiwalik school celebrates founder's day
Dehradun October 30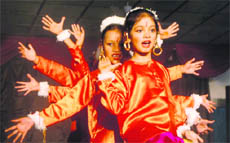 Fostering the mutual bond and respect of cultural heritage of the institution, Shiwalik International School celebrated its 16th annual founder's day "Samanvaya" here today.Harish Rawat, Union Minister of State for Labour and Employment, was the chief guest. Accompanying him was Pritam Singh, former Cabinet Minister, as guest of honour.

Students perform at the founder's day celebrations of the Shiwalik International School in Dehradun on Saturday. A Tribune photograph

Scholarships to be released through banks, post office
Dehradun, October 30
District Magistrate (DM) Sachin Kurve has directed the District Education Officer (DEO) and the Additional District Education Officer, Basic (ADEO), to ensure that the payment made by the Social Welfare Scholarship will be delivered to school students for the 2010-11 session through the bank or post office.
NSUI member blocks Principal's car
Dehradun October 30
Reacting to the discrepancy between the Principal of the DAV PG College and law students, a member of the National Student's Union of India (NSUI) lay down in front of the Principal's car here today.
UKD stages dharna against backdoor appointments
Dehradun, October 30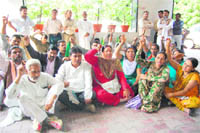 Expressing resentment over backdoor appointments of higher posts at the Garhwal Mandal Vikas Nigam (GMVN), Uttarakhand Kranti Dal (UKD) activists staged a dharna outside the Rajpur Road office here today.Led by Bahadur Singh Rawat, the protesting UKD members alleged large-scale backdoor appointments had taken place for higher posts at the GMVN and asserted that it would not be tolerated at any cost.

UKD members hold a protest in Dehradun on Saturday. A Tribune photograph
NSS camp held
Dehradun, October 30
An NSS camp was organised at SGRR PG College on the National Unity Day here today.About 250 students took part in the camp. NSS volunteers took out a rally and conducted a cleanliness drive. Special guest Lalit Joshi exhorted the students to fix their aims and try to learn always.
Bahuguna demands Nazul land as freehold
Dehradun, October 30
Gurbej Singh, President of the Indira Market and General Merchants Welfare Association, said Vijay Bahuguna, Member of Parliament, had written a letter to the Mussoorie-Dehradun Development Authority (MDDA) asking them to transfer the Nazul land as free hold to the businessman in the Indira Market, local bus stand, New Market and Patel Market.