Dinesh Singh-DUTA meet yields no result
New Delhi, November 4
After a long stir over the continuation of semester system in 13 undergraduate science courses of Delhi University, the new vice-chancellor Dinesh Singh today met the Delhi University Teachers Association (DUTA) office bearers for the first dialogue on the issue.
Anish Kapoor to showcase works in Delhi
New Delhi, November 4
World renowned artist Anish Kapoor will be exhibiting for the first time in India. His unique style makes him one of the most distinctive artists of his time. The exhibition has a large selection of Kapoor's works from 1980 to date.
Light-emanating crackers preffered to noisy ones
New Delhi, November 4
Awareness campaigns and medical advices against use of firecrackers seem to be having little impact on Delhiites. Cracker shopkeepers in Sadar Bazar, the wholesale market which attracts buyers from far and wide for its variety and economy, say this year, sale is better than the previous year.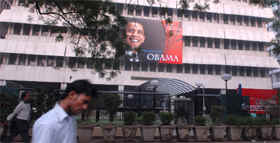 A billboard outside the American Centre in New Delhi welcomes US President Barack Obama. Tribune photo: Mukesh Aggarwal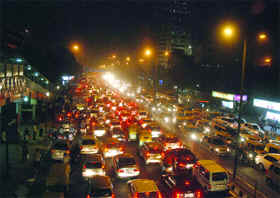 DIVALI RUSH: Heavy traffic due to Divali at Vikash Marg, ITO in New Delhi on Thursday. Tribune photo: Manas Ranjan Bhui

Rickshaw puller nabbed for 72-yr woman's murder
New Delhi, November 4
With the arrest of Sanjeev Ghosh (35), a resident of the Todapur area, the Delhi police has claimed to have solved the murder of an elderly woman. The victim was allegedly murdered in the Rajender Nagar police station area on October 7. The gold articles robbed from her house have been recovered from his possession.
Crafts museum decked up for Michelle
New Delhi, November 4
The National Handicraft and Handloom Museum in the Capital is all set to welcome the US First Lady on the day following Divali. One of the oldest craft galleries on Bhairon Singh Marg, the museum has been decked for Michelle Obama's visit, wife of US President Barack Obama.
Delhi sewage to be shifted out through Hindon canal
Noida, November 4
After 14 years, the Federation of Noida RWAs' plea has been accepted by the state government which has decided to use Hindon Canal in stead of Shahdara drain to transfer Delhi sewage to Yamuna.
Jamia training madarsa teachers
New Delhi, November 4
Jamia Millia Islamia is busy organising training sessions for teachers in madarsas. The Academy of Professional Development of Urdu Medium Teachers at Jamia has taken up the task of preparing madarsa teachers from across the country in the nuances of teaching in the Urdu language.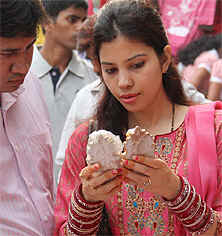 A couple looks at an idol of Ganesh and Lakshmi ahead of Divali in New Delhi on Thursday. Tribune photo: Mukesh Aggarwal

Another DC suspected of being corrupt
Noida, November 4
After a deputy commissioner with the commercial tax department of Noida was caught taking bribe and later suspended, another deputy commissioner of the same department is under suspicion, it is learnt.
DU honours Malawi Prez
New Delhi, November 4
Forty years after he passed out from Delhi University (DU), Malawian President H.E. Professor Bingu Wa Mutharika came here once again and was nostalgic to receive a doctor of letters degree that the university conferred on him today.
Nine out of 10 of Delhi's sweet shops unhygienic
New Delhi, November 4
Look closely at the pack of sweets you may have bought from a shop in the Capital. Chances are the sweets were made in unhygienic conditions in a shop without proper water and drainage connections, a senior Municipal Corporation of Delhi (MCD) official said.
3 burglars held with over Rs 22-lakh booty
New Delhi, November 4
With the arrest of three persons identified as -- Shamsher Azad, Mansoor and Sikander -- the Badli police has worked five cases of burglaries.
Cabinet approves circle rate change
New Delhi, November 4
Chief Minister Sheila Dikshit today returned the proposal on new circle rates to the LG without incorporating the amendments sought by him, sources said.
Village flats to be sold after CAG report
New Delhi, November 4
Flats in the Commonwealth Games Village will be sold after the Comptroller and Auditor General (CAG) of India prepares its report, sources said. The CAG is currently auditing the expenditure made by the government on the construction of the buildings at the Village.
Bikers loot Rs 2.5 lakh at gunpoint
New Delhi, November 4
Three bikers allegedly held the guard and the cashier of a Pakharganj toll post near Tikri border in outer Delhi at gunpoint and decamped with Rs 2.5 lakh this morning.
1 caught with Rs 8-cr heroin
New Delhi, November 4
With the arrest of one person, the Delhi police special cell has claimed to have busted an international drug gang. The police has seized 4.049 kg of fine quality heroin worth Rs 8 crore from him.
Beijing Mayor praises Sheila
New Delhi, November 4
A nine-member Chinese delegation led by Vice-Mayor of Beijing Ding Xiangyang that today called on Delhi Chief Minister Sheila Dikshit has praised the national Capital's roads, saying that travelling from airport to hotel was a great experience.
Crackers prohibited after 10 pm
New Delhi, November 4
No bursting of firecrackers would be allowed in the Capital after 10 pm, the Delhi police said on Thursday.
Foggy Friday predicted in Delhi
New Delhi, November 4
It was a clear and pleasant Thursday in the national Capital as the maximum temperature was recorded a notch below average at 29.2 degree Celsius.