PUNJAB
HARYANA
JAMMU & KASHMIR
HIMACHAL
REGIONAL BRIEFS
NATION
OPINIONS
LETTERS
BUSINESS
SPORTS
WORLD
Every Wednesday & Saturday
Shoppers flood markets
Disrupt traffic on Divali eve
Jammu, November 4
AS shoppers crowd the city markets in view of Divali, traffic chaos and confusion reign supreme everywhere. The traffic congestion in the city has become a major challenge for the traffic police. Though extra cops have been deployed to ease traffic congestion at all busy spots, yet it prevails in most parts of the city.
lighting up the festive spirit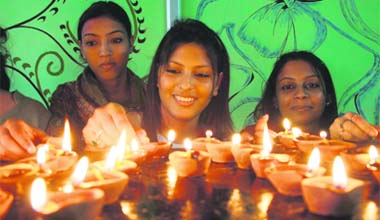 Gearing up for the D-day:

Girls light earthen lamps on the eve of Divali in Jammu. Photo: Inderjeet Singh
BJP, Kashmiri Pandits launch campaign
November 3, 2010
Congress too joins campaign
October 30, 2010
Facing criticism for becoming CM's yes men
October 27, 2010
State remembers its martyrs
October 23, 2010
RTI crusader faces criminal cases
October 20, 2010
KAS mains exam result fuels regional divide
October 13, 2010
Cloudburst leaves businessman pauper
October 9, 2010
Compensation to stone-pelters triggers row
October 6, 2010
Scholarships for kids of slain cops
October 2, 2010