PUNJAB
HARYANA
JAMMU & KASHMIR
HIMACHAL
REGIONAL BRIEFS
NATION
OPINIONS
LETTERS
BUSINESS
SPORTS
WORLD
Every Wednesday & Saturday
Cloudburst leaves businessman pauper
One of the top five richest persons of Leh, Phunchok, whose hardware store was washed away in the catastrophe, now craves for every single penny
Leh, October 8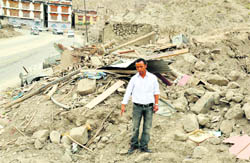 Phunchok Stobdan, who earlier used to do business worth lakhs in a day, has left with a little money in his bank account and with which he has started his business in a small booth here.
Phunchok stands amid the debris of his store in Leh.
Removing discrepancies in BPL lists
Govt promises remain on paper
Jammu, October 8
The statement by Minister for Consumer Affairs and Public Distribution (CA&PD) Qamar Ali Akhoon in the Legislative Assembly regarding survey to update the below poverty line (BPL) lists is a clear indication that during the past one year the government has just been giving assurances without doing anything concrete so far.
State seeks Rs 211 cr from Centre for drought-hit farmers
Srinagar, October 8
Minister for Revenue, Relief and Rehabilitation Raman Bhalla has said that the government has put up a relief demand of Rs 211.28 crore to the Centre for providing succour to drought-hit farmers in the state.
Labour shortage hits construction work in Leh
Leh, October 8
Leh district is facing an acute shortage of labourers, which is hampering the construction of houses for hundreds of displaced victims of the recent disaster.
REAPING TIME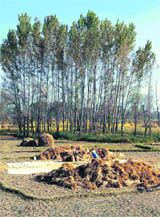 Farmers thrash paddy with the beginning of the harvest season in Shariefabad on the outskirts of Srinagar. — Reuters