PUNJAB
HARYANA
JAMMU & KASHMIR
HIMACHAL
REGIONAL BRIEFS
NATION
OPINIONS
LETTERS
BUSINESS
SPORTS
WORLD
Every Wednesday & Saturday
Kashmir turmoil takes heavy toll on CRPF jawans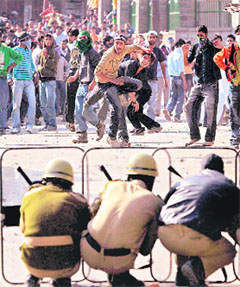 Jammu, September 21
They were shot from point blank range. "They were shot at from crowds". They were disfigured and traumatised in the sponsored incidents of stone pelting. Yet, none talks about their human rights in the troubled Kashmir Valley. They are CRPF jawans, who have been discharging their duties in the turbulent Valley miles away from their homes.
Security personnel try to protect themselves as protesters hurl stones at them in Srinagar.

Security personnel 'harassing' hospital staff
Srinagar, September 21
Doctors and paramedical staff of the Sher-e-Kashmir Institute of Medical Sciences (Soura) allege that the CRPF and the police were not allowing them to discharge their duties.
Road widening project to facilitate commuting
September 18, 2010

Staff threat to resume stir leaves govt worried
September 15, 2010
Unrest in Valley fuels mental disorders
September 11, 2010
Unrest: Jobs dry up in Valley
September 8, 2010
Pak army, ISI officers visit PoK training camps
September 4, 2010
Winter fear stalks Leh
August 28, 2010
Lashkar down but not out
August 25, 2010
Board for concessions to Valley students
August 21, 2010
Pak desperate to push ultras into Jammu region
August 17, 2010
Pak desperate to push ultras into Jammu region
August 14, 2010
Independence Day is 'black day' in Kashmir
August 11, 2010