PUNJAB
HARYANA
JAMMU & KASHMIR
HIMACHAL
REGIONAL BRIEFS
NATION
OPINIONS
LETTERS
BUSINESS
SPORTS
WORLD
D E H R A D U N P L U S
Jauljivi fair shuns old image
Pitthoragarh, November 12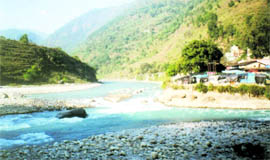 The tri-nation trade fair at Jauljivi on the banks the Kali, about 60 km from Pitthoragarh, which once represented old economic pattern of Uttarakhand.
The site of the tri-nation trade fair at the confluence of the Kali and Gori rivers at Jauljivi in Pitthoragarh district.

Now, Kali Kumaon villagers needn't migrate in winter
Pitthoragarh, November 12
Even as high Himalayan tribal people are still shifting as part of the seasonal migration during winter, people of Kali Kumaon, who used to migrate to Terai areas to escape cold and earn their livelihood there from time immemorial, have abandoned the tradition for the past 30 years.
Home dist of 2 CMs, Pauri reels under water shortage
November 12, 2010
Develop people-friendly technologies, CM to scientists
November 11, 2010
Himalayan states must plan now to combat climate change: Report
November 10, 2010
Winged guests start arriving at Asan
November 9, 2010
State sports gets step-motherly treatment
November 8, 2010
High prices prevent a cracker of a Divali
November 7, 2010
Let There be light everywhere
November 5, 2010
Festive spirit reaches high point
November 4, 2010
Dhanteras: The right day to buy metal ware
November 3, 2010