PUNJAB
HARYANA
JAMMU & KASHMIR
HIMACHAL
REGIONAL BRIEFS
NATION
OPINIONS
LETTERS
BUSINESS
SPORTS
WORLD
M A I N N E W S
CHANDIGARH SKYLINE IN DANGER: A TRIBUNE INVESTIGATION - IV

See who profited
The list of beneficiaries of the Tata housing project reads like the who's who of Punjab politics. Here's the complete list and what they did to get there
Ruchika M. Khanna
Tribune News Service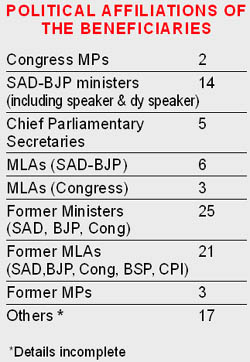 Chandigarh, November 19
The biggest money spinner in the region is the shrinking land in and around City Beautiful. Little wonder then that all big names in the real estate sector in the country want to get into this lucrative realty market, which in turn provides a perfect opportunity to local real estate agents, land aggregators and consolidators to make their millions by selling off land to the big daddies of the realty world.
The Camelot project by Tata Housing Development Company (THDC) in Kansal is a perfect example of how the real estate business works in this region. It was a local real estate agent who approached the Tatas in 2006, and suggested that the Tatas join hands with the Punjab MLAs society, The Punjabi Cooperative House Building Society and Defence Services Society, to set up an integrated project in Chandigarh, adjacent to Sukhna Lake. This developer not just made his millions by getting the land consolidated for THDC and arranging the land deal, but is also one of the main brokers for selling the project to investors.
The real estate development arm of Tatas, THDC, was roped in, allegedly with an assurance that since all bigwigs across the political spectrum-from the (then) ruling Congress to the Shiromani Akali Dal, the Bhartiya Janata Party, the Bahujan Samaj Party and the CPI were members of the society, the project would have no problem in taking off and later the apartments would sell like hot cakes, considering proximity to Chandigarh.
The Tatas were one of the four real estate developers to approach the MLAs society and the Defence Services Society, to get the 53 acre land jointly owned by the two societies. The plotting of the land was already done and in 2006 when the deal was being finalized, THDC was assured by the local real estate developer that the project site had a clear land title and had no legal incumberances. With the then bigwigs of the ruling Congress like Perneet Kaur, Congress MP and wife of then chief minister Amarinder Singh, MP Santosh Chaudhary, state ministers Avtar Henry , Tej Prakash Singh and Ramesh Chander Dogra, being members of the society, the project was envisaged as a sure shot hit.
So even as the Congress lost power to the Akali- BJP combine in 2007, this new political leadership in the state had its own interest in ensuring the project remained on steam, as over half the members belonged to the SAD- BJP alliance. After all, each of these members was getting a four bedroom flat and Rs 82.50 lakh in cash. These include (now) deputy chief minister Sukhbir Singh, ousted finance minister Manpreet Badal, local bodies minister Manoranjan Kalia (incidentally, it is Kalia's department that has given all clearances to the Camelot project and played around the rules to give it a legal status), ministers Gulzar Singh Ranike, Parminder Singh Dhindsa Vidhan Sabha speaker Nirmal Singh Kahlon and deputy speaker Satpal Gosain. So even as the Congress lost power to the Akali- BJP combine in 2007, this new political leadership in the state had its own interest in ensuring the project remained on steam. After all, each of these members was getting a four bedroom flat and Rs 82.50 lakh in cash.
As part of the joint development agreement signed between THDC, Hash Builders and the two above mentioned housing societies, THDC was to construct the property and make part payment to the high profile members of the two societies. Hash Builders, through its marketing arm, RMC Infrastructure, was to first sell the project to investors, and the advance thus obtained from these buyers was to be used to pay the balance money to the members of MLA society and Defence Services Society ( 260 members). THDC has reportedly paid two tranches to the MLA society members (a total of Rs 33 lakh to each member).
At the time when Joint Development Agreement was signed between THDC, Hash Builders and RMC (India) Infrastructure Ltd, there was a ban on construction of high rise buildings in this region. Interestingly, this land was purchased by the two societies from the original land owners over a period of five years - from 1997- 2003. Some of the land that the society bought was actually a part of the village common land ( jumla mushtarka malkan). However, these politicians amended the by laws and got this land transferred in the name of the society. This amendment in laws also reportedly aided the Defence Services Society.
(To be concluded)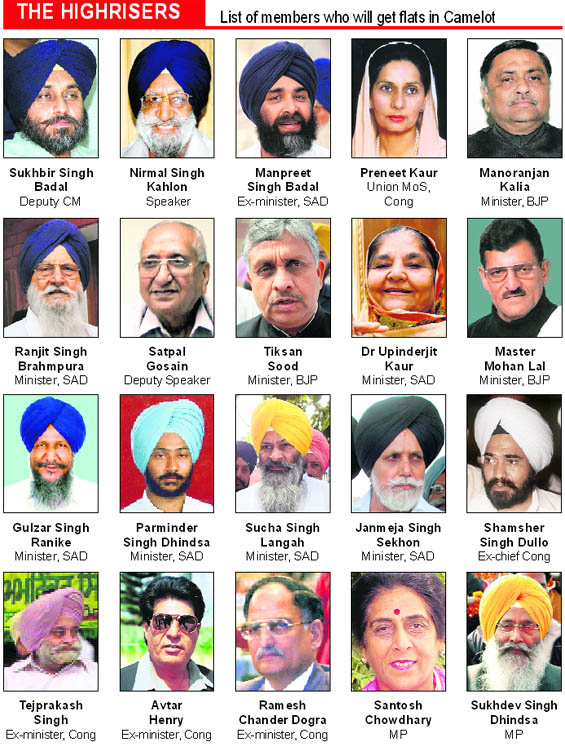 Originally, the society had 129 members. By the time the deal was made, the number of members had come down to 102. Here is the full list:
Minister at Centre: Preneet Kaur (Congress)
Punjab Assembly: Speaker Vidhan Sabha Nirmal Singh Kahlon, Deputy Speaker Satpal Gosain, Former speaker Vidhan Sabha Charanjit Singh Atwal
Members of Parliament (MP): Dr Rattan Singh Ajnala SAD, Balwinder Singh Bhundar SAD, Sher Singh (SAD) Sukhdev Singh Dhindsa (SAD), Avinash Rai Khanna (BJP), Santosh Chowdhary (Congress)
Chief Parliamentary Secretaries: Nand Lal (SAD), Sarwan Singh Phillaur (SAD), Sohan Singh Thandal (SAD), Arunesh Kumar (BJP), Mohinder Kaur Josh (SAD)
Ministers (SAD-BJP): Sukhbir Singh Badal, Dr Upinderjit Kaur, Master Mohan Lal, Gulzar Singh Ranike, Janmeja Singh Sekhon, Parminder Singh Dhindsa, Ranjit Singh Brahmpura, Sewa Singh Sekhwan, Sucha Singh Langah, Swarna Ram, Tikshan Sood, Manoranjan Kalia
Members of Legislative Assembly (MLAs): SAD: Balbir Singh Bath, Balbir Singh Ghunas, Jatinder Singh Kariha, Sarabjit Singh
BJP: Chuni Lal Bhagat, Jagdish Sawhney
Congress: Avtar Singh Brar Harmohinder Singh Pardhan, Om Parkash Soni
Former ministers: SAD-BJP: Bibi Jagir Kaur, Balbir Singh Maini, Raja Narinder Singh, Ajaib Singh Mukhmailpura, Hari Singh Zira, Inderjit Singh Zira, Manpreet Singh Badal, Raghbir Singh, Ranjit Singh Balian, Tara Singh Ladal, Charanji Lal Garg, Nusrat Ali Khan, Sikander Singh Maluka, Satwant Kaur Sandhu, Baldev Raj Chawla, Balramji Dass Tandon, Madan Mohan Mittal, Surjit Kumar Jayani
Congress: Jagjit Singh, Jasjit Singh, Satyapal Saini, Tej Parkash Singh, Avtar Henry, Late R.S. Puri, Romesh Chander Dogra
Former Members of Legislative Assembly: SAD: Bagh Singh Malla, Late Bachan Singh Cheema, Gobind Singh Longowal, Harnirpal Singh, Inder Iqbal Singh, Inderjit Singh Zira, Jagtar Singh Rajla, Manmohan Singh Sathiala, Mantar Singh Brar, Paramjit Singh, Late Prem Singh Lalpura, Sukhwinder Singh Aulakh, Vir Singh Lapoke, Jagdish Kaur Dhillon, Late Gurdeep Singh Bhullar
Congress: Amrik Singh Dhillon, Kanwaljit Singh Lally, Shamsher Singh Dullo
BSP: Satnam Singh Kainth, Shingara Ram Sahungra
CPI: Hardev Singh Arshi
SAD: Raj Mohinder Singh, Late Zora Singh Mann, Satwinder Kaur Dhaliwal
Others: Ram Kumar Goel, Kanwar Jagdeep Singh, Balwant Singh, Gurdeep Singh Badal, Harbhajan Singh, Jasbir Singh Bhullar, Naib Singh, Tejinder Pal Singh, Charanjit Singh M.P., Mohit Garg, Balwinder Kaur, Gurmail Kaur, Harjit Kaur, Manjit Kaur, Manju Rinwa, Mukhtiar Kaur, Surjit Kaur
DGP submits irregularities about
project to High Court
Saurabh Malik
Tribune News Service
Chandigarh, November 19
Probe into the allegations of land grab by high-ups on Chandigarh's periphery has added another twist to the controversy shrouding the sale of land by Punjab MPs and MLAs to Tata Housing Development Company in the Capitol Complex's vicinity.
Not only were two acres of 'jumla mushtarka malkan' or land commonly owned by villagers transferred to their society, they also "used their official position" to get the byelaws amended to sell the land after the matter came to the Punjab and Haryana High Court, it has now emerged.
In a status report submitted to the High Court, Punjab DGP-cum-investigating officer Chander Shekhar has stated that Punjabi Cooperative House Building Society, constituted by "representatives of the people", purchased land in Kansal village. It was "later on sold to private companies at a very heft profit by the public representatives".
In the report placed before the Division Bench of Justice Adarsh Kumar Goel and Justice Nirmaljit Kaur, the DGP asserted: "Total land - 21.2 acres - was purchased by the society in 2003 for Rs 8.19 cores and sold to Tata Housing Development Company Limited for Rs 96.59 corers, about 10.80 times the purchase amount in four years". Virtually indicting them, the DGP said: "It is worth pointing out that from the total area, about two acres was initially transferred from jumla mushtarka malkan. When the matter came to the HC, they further used their official position and got the byelaws amended at their will/convenience to enable them to sell their allotted plots/lands for monetary benefits". Chander Shekhar added: "At this stage, keeping in view the basic concept of house building society, it is now for the HC to consider the matter by passing appropriate orders".
Claiming frustration at the very purpose behind allotting land to societies, Chander Shekhar insisted the sole motive of the relevant "Act and rules was to provide land/plots for the construction of houses and flats for residential use by the members". But, "the aim was forfeited, when the process was followed for earning profits, and when it was made a business for commercial purposes. Besides government officials and private persons, this also includes high-ups, police and non-police officers". Chander Shekhar also gave details of 26 co-operative house building societies. He claimed that the "total number of cases transferred/sold by the original allottees" in Punjabi Cooperative House Building Society was 96 - the third highest. The first slot was bagged by Pushpac (first) Cooperative House Building Society with 175 such "cases", followed by Telehose Employees Coop House Building Society with 101 "cases". Punjab Vidhan Sabha Society was stated to have 16 such "cases".
Kansal project meets rules: THDC
In a statement issued to The Tribune in Chandigarh on Friday, Tata Housing Development Company said it has always been a responsible developer. The company follows a strict code to ensure due process for any development as per the laws of the land. The company entered into Joint Development Agreements with the holders of the project lands in Kansal in an open and transparent transaction with the two societies about 45 months ago. The statement declares: "The land was independently valued and we entered an agreement for the said land on this basis. Over the past 45 months, we have been working towards acquiring all necessary permissions and approvals required for the project.
"We have in fact not begun any activity on the site and will not do so until all clearances have been obtained. Over the years, Tata Housing has come to be recognised for its quality construction, ethical and transparent business practices, high standard of maintenance and timely delivery of properties. Our proposed project in Kansal village complies with all rules and regulations, it will reflect our underlying philosophies in terms of design excellence and environmental sustainability."