Corporation's replies evasive: RTI activist
Sirsa, November 26
Nuclear Power Corporation of India Limited (NPCIL) is yet to prepare a public document on the environmental impact assessment (EIA) of the proposed nuclear power plant at Gorakhpur in Fatehabad.
Committee set up to review BPL list
Sirsa, November 26
Complaints about inclusion of ineligible families in the below poverty line (BPL) list and those regarding non-registration of eligible families have been mounting with the authorities throughout the state, particularly in urban areas.
Bring back money from Swiss banks: Bishnoi
Sirsa, November 26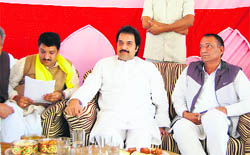 Haryana Janhit Congress supremo Kuldeep Bishnoi today demanded that the money of Indian politicians deposited in Swiss banks should be brought back to the country to boost its economy.




HJC chief Kuldeep Bishnoi addresses mediapersons at Sirsa on Friday. Photo: Amit Soni
DC in trouble for bungling in recruitment
He tried to circumvent judicial process, says High Court
Chandigarh, November 26
Ambala Deputy Commissioner is in trouble, apparently. The Punjab and Haryana High Court has ruled the DC made an attempt to "circumvent the judicial process" in a recruitment matter. He has now been asked to file a personal affidavit.
Agitating MC staff meet police chief
Demand quashing of FIR against colleagues
Faridabad, November 26
The municipal employees met Police Commissioner PK Aggarwal here today .
Manisha's village erupts in joy
Jind, November 26
Residents of Fatehpur village in the district broke into celebrations as news of the Indian kabaddi team winning the gold at the Asian Games was splashed by TV channels. Manisha Dalal, member of the victorious team, the only player from Haryana in the team, belongs to the village.
Case baseless, says former MC chief
Bhiwani, November 26
Former chairperson of the MC, Sewa Devi Dhillon, today ruled out her involvement in passing the building plans of two multi-storeyed buildings on Hansi Road here. At a meeting today, she said that the case registered in this connection was baseless and false.
Case Solved
Minor girls were killed by cousin
Panipat, November 26
The district police has arrested a juvenile for abducting and killing two minor girls.The bodies of the victims were found dumped in a drain here on November 19, the throats slit.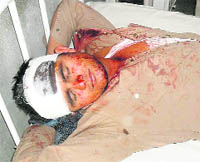 Brutal attack on engg student
Sirsa, November 26
Sudesh Kumar (17), a student of computer engineering at Government Polytechnic, Nathusari Chopta, was attacked by six youths with lathis and sharp-edged weapons this afternoon.




Injured polytechnic student Sudesh Kumar in a Sirsa hospital. Photo: Amit Soni.
3 polytechnic students dead as bus hits truck
Hisar, November 26
Three students of the local Government Polytechnic were killed when the bus in which they were travelling collided with a truck on the Delhi road late last evening.
Gangsters attack train, loot Bihari farm workers
Sonepat, November 26
At least 20 farm labourers from Bihar were reportedly thrashed and looted by armed gangsters as they were travelling on the Delhi-bound train between Rathdhana and Narela late last night. Some of them were allegedly thrown out of the train when they refused to hand over the cash to the gangsters. The labourers, mostly from district Saharsa in Bihar, were returning home from Punjab after the harvesting season.They boarded the train at Panipat. At 11 pm, the gangsters boarded the train at the Rathdhana railway station and after entering one of the compartments, asked the passengers to hand over cash. They jumped out of the train as it slowed down at an under-pass near the Narela railway station.
Girl's kin booked for attacking couple
Rohtak, November 26
A young couple was allegedly set ablaze by kin of the girl near Nighana village in the district, 20 km from here, last night.
Solar plates stolen from college
Fatehabad, November 26
Some unidentified persons stole equipment and solar plates of a solar energy system from the local Manohar Memorial Postgraduate College recently. The equipment was worth Rs 2 lakh.
Man shot dead
Sonepat, November 26
Jai Prakash of Jatheri village was killed while Ashok, a tailor, was injured seriously when motorcycle-borne Sandeep of the same village, along with an accomplice, fired indiscriminately at Jai Prakash this morning in front of the tailor's shop in the village. Ashok was referred to the PGIMS, Rohtak, by doctors at the Civil Hospital. — TNS
Revenue officials suspended
Candigarh, November 26
Chief Minister, Bhupinder Singh Hooda has directed that two naib tehsildars and a tehsildar be placed under suspension with immediate effect for registering documents of shamlat (village common land) in an illegal manner, for misappropriation of valuable properties in Palwal district and illegal sanctioning of mutation of sale deeds of shamlat in Budian village, Ambala. The CM ordered that criminal cases be registered against the erring officials . — TNS